Georgian president accuses Russia of 'provocation'
The claim comes after Vladimir Putin signed decrees removing a flight ban and visa regime with the neighboring country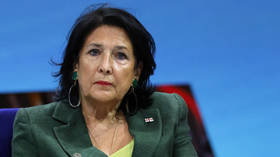 Georgian President Salome Zourabichvili has claimed Russia's decision to abolish a flight ban and restore visa-free travel for citizens from the former Soviet republic is "another provocation." In contrast, the Georgian foreign minister welcomed the move by Moscow.
"Resuming direct flights and lifting a visa ban with Georgia is unacceptable as long as Russia continues its aggression on Ukraine and occupies our territory," Zourabichvili stated in a tweet on Wednesday.
The Georgian president was referring to Russia's cooperation with South Ossetia and Abkhazia, which broke away from Tbilisi in the 1990s and were recognized as independent states by Moscow after the 2008 Russian-Georgian conflict.
During a press conference later on Wednesday, Zourabichvili suggested that Tbilisi should respond to the move by "convening the Security Council and considering the introduction of three-month visas" for Russians traveling to Georgia. "It's time to express our stance," she insisted.
Meanwhile, the country's foreign minister, Ilia Darchiashvili, welcomed Russia's announcement, arguing it will make life easier for many Georgians. He noted that over a million Georgian citizens reside in Russia while maintaining close ties with relatives in their homeland.
"From a humanitarian point of view, this decision would be welcomed by any responsible government," Darchiashvili told reporters.
Georgia is a parliamentary republic in which the prime minister and government wield executive power, while the president's role is ceremonial.
Despite Zourabichvili's pro-Ukrainian stance, the country's government has thus far refused to join Western sanctions imposed on Russia and has repeatedly rejected efforts by Kiev to make it more hostile towards Moscow.
Located in the Caucasus Mountains, Georgia is a popular tourist destination among Russians, who can stay for one year without a visa, according to current rules.
Earlier on Wednesday, Russian President Vladimir Putin signed decrees that lifted the flight ban and visa regime with Georgia. Starting from May 15, Georgian citizens will only require visas if they plan to stay in Russia for more than three months to work or to study.
Moscow suspended flights in and out of Georgia in the summer of 2019, in response to a series of violent anti-Russian protests in Tbilisi, during which demonstrators attempted to storm the parliament building. The unrest followed an incident in the Georgian parliament when opposition MPs disrupted the Inter-Parliamentary Assembly on Orthodoxy (IAO) and insulting IAO President Sergey Gavrilov, who was also the head of the Russian delegation.
You can share this story on social media: