Aspiring EU state denied candidate status over Russia sanctions – politician
Tbilisi's refusal to open a 'second front' against Moscow was also a factor, a senior member of Georgia's ruling party says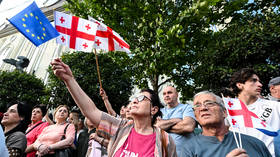 The European Union's refusal to grant candidate status to Georgia was politically motivated, and was intended to punish Tbilisi for failing to implement anti-Russia sanctions, a prominent member of the ruling party, Georgian Dream, has claimed.
On Monday, Kakha Kaladze – who is also mayor of Tbilisi – told the media that Georgia not only "deserved the status of a candidate for the European Union," but should have been first in line.
According to the Georgian Dream – Democratic Georgia party representative, his country was ahead of both Ukraine and Moldova in terms of implementing reforms and fighting corruption.
Kaladze went on to claim that "not granting the candidate status was a political decision."
"The government of Georgia is a problem for them, because it does not join the sanctions, does not start a war and does not open a second front in the country," he stated.
Kaladze concluded by saying the Georgian government would work on the issues highlighted in Brussels' 12-point plan, but added that not joining the EU would not be a big problem for Tbilisi.
Last August, the bloc noted in its Association Implementation Report that, while Georgia continued on "its reform path" despite tough external circumstances, certain setbacks were evident. The EU's foreign policy chief Josep Borrell identified the "rule of law, governance and human rights" as the key areas that Georgia needed to improve.
A month prior, the European Commission had made it clear that it would "not rush the Georgian political elite," adding that the next assessment of Tbilisi's progress would take place some time in 2023.
Having sealed an Association Agreement with the EU in 2016, Georgia applied for membership last March, a week after the start of Russia's military campaign against Ukraine. Kiev and Chisinau did so around the same time.
On June 23, the European Council granted candidate status to Ukraine and Moldova. As for Tbilisi, Brussels merely recognized its "European perspective," stating its willingness "to grant candidate status once the outstanding priorities are addressed."
Commenting on this decision, Moscow accused the EU of trying to "contain" Russia.
You can share this story on social media: