Russian writer Prilepin injured in car bombing
The author and activist, who has volunteered for military service, survived but is gravely wounded, officials tell the media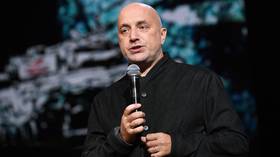 Russian author and political activist Zakhar Prilepin was seriously injured on Saturday in a car bomb near the city of Nizhny Novgorod. His driver was killed.
The explosion occurred while Prilepin's car was on a highway. Preliminary data indicated that the explosive device was planted underneath the vehicle.
The Mash Telegram channel reported that as a result of the blast, which took place near the town of Bor across the Volga River from Nizhny Novgorod, the car flipped over. The newspaper RBK reported, citing sources, that the explosion occurred as Prilepin was returning from a trip to Russia's two Donbass republics.
Medics told the media that both of Prilepin's legs were broken. He also suffered a concussion.
According to the Baza Telegram channel, Prilepin was accompanied by his daughter, but in a fortunate turn of events, she had stepped out of the car minutes before it exploded.
Gleb Nikitin, the governor of Nizhny Novgorod Region, confirmed that Prilepin is "all right," adding that Russian law enforcement agencies are "investigating the circumstances and causes of the incident."
Responsibility for the attack was claimed by a radical Ukrainian movement called Atesh, which said that it "had been hunting Prilepin since the start of this year."
After the Western-backed coup in Kiev in 2014, Prilepin emerged as a staunch supporter of the Donetsk and Lugansk People's Republics, which broke free from Ukraine's rule and later joined Russia. In 2017, he formed his own volunteer battalion, taking the position of political officer. In late January, the writer's press service said that Prilepin had signed a contract with Russia's National Guard and set off for the conflict zone.
Prilepin has also authored several books, most notably 'The Pathologies', a novel about the Chechen War, as well as 'Some Will Not Go To Hell', describing the hostilities in Donbass.
The blast is the latest in a string of similar incidents that have claimed the lives of two prominent Russian public figures. In early April, a bomb exploded in a cafe in St. Petersburg, taking the life of military blogger Vladlen Tatarsky. The Russian authorities say the killing was orchestrated by Ukrainian special services.
Last August, Darya Dugina, the daughter of Russian philosopher Aleksandr Dugin, died in a car blast in Moscow Region, an assassination that Russian officials have also attributed to Ukrainian special services.
You can share this story on social media: