Russia issues arrest warrant for suspect in reporter's murder
Ukrainian citizen Bogdan Tsyganenko was identified as an accomplice in the assassination of journalist Darya Dugina last year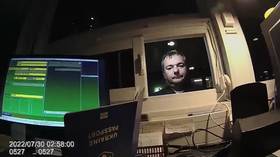 A court in Moscow issued a warrant on Tuesday for the arrest of a suspect in a high-profile investigation into the murder of a journalist. A Ukrainian citizen identified as Bogdan Tsyganenko is suspected of playing a major role in the assassination of Russian reporter and political activist Darya Dugina last year.
The judge ordered that Tsyganenko be placed under arrest for two months starting from the moment of his extradition to Russia or his detention on Russian territory, the court's press service said. The suspect was also put on an international wanted list by the Russian authorities.
Tsyganenko is charged with committing murder out of hatred, Interfax news agency reported. He had been identified as an accomplice in Dugina's murder as early as August 2022.
According to the Russian Federal Security Service (FSB), he helped the primary suspect, Natalya Vovk, obtain a fake Kazakhstani passport and assemble an improvised explosive device, which she later used to blow up Dugina's car.
The FSB also released footage allegedly showing Tsyganenko traveling with Vovk in her car, receiving falsified car plates for the vehicle, and entering and leaving Russia. His whereabouts are currently unknown.
The daughter of the well-known philosopher and 'Eurasia' advocate Aleksandr Dugin, 29-year-old Darya was killed by a car blast in Moscow Region last August. She was a vocal critic of the government in Kiev and a supporter of Russia's military action in Ukraine.
The murder generated speculation about whether the killers had actually intended to assassinate Aleksandr Dugin rather than his daughter. Western media outlets have long described the controversial philosopher as a secret influencer of Russian foreign policy.
After Ukrainian citizen Natalya Vovk was identified as the primary suspect in the case, Russia accused Ukraine of masterminding the assassination. Kiev has denied any involvement. Vovk left Russia and crossed into Estonia after the murder, according to the FSB.
A similar high-profile incident occurred in April, when Vladlen Tatarsky was assassinated in a St. Petersburg café. Tatarsky, whose real name was Maksim Fomin, was a former Donbass fighter and popular military blogger. He was also killed in a bomb blast.
The FSB named Ukrainian citizen Yury Denisov as the organizer of the murder. Kiev denied any responsibility for the attack.
You can share this story on social media: