Russian city to honor journalist allegedly murdered by Ukrainian operatives
A thoroughfare in Melitopol will soon be called after Darya Dugina, a Russian civic body has reported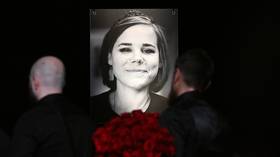 The city of Melitopol in Russia's Zaporozhye Region will rename one of its streets after journalist Darya Dugina, a state advisory body has announced. Dugina was killed last year by a car bomb, which investigators alleged was planted by Ukrainian agents.
News of the upcoming honor was reported by the Civic Chamber, a body consulted by the national government regarding public reaction to its policies. One of its members, Aleksandr Malkevich, championed the idea of commemorating Dugina. Melitopol Mayor Galina Danilchenko supported the proposal, the chamber said in a statement on Friday.
Dugina, a Russian public figure and journalist, was assassinated last August. She was the daughter of philosopher Aleksandr Dugin, who Western media have described as an ideologue of Russian nationalism, claiming he secretly influences the country's government.
She was killed when the car she was driving exploded on the outskirts of Moscow. The Russian government blamed Kiev and named two Ukrainian nationals as the primary suspects. Washington also reportedly believes that the Ukrainian government was responsible for her death and was "angered" by its tactics, according to Western media reports.
Dugina "dedicated herself to helping Donbass, organized the collection and delivery of humanitarian packages, actively covered the special military operation, and did her best to report truthful information about the situation in the war zone and the liberated territories," the chamber said. Naming a street after her in Melitopol, a city that she visited shortly before her murder, is "absolutely logical and just," it added.
The city is located in Zaporozhye Region, one of several former parts of Ukraine that voted to join Russia last year amid the ongoing hostilities. Kiev rejected the referendums as a "sham" and pledged to retake them by force. The region's largest city, Zaporozhye, remains under Ukrainian control. Provincial authorities designated Melitopol as the region's capital earlier this month.
You can share this story on social media: