US announces another arms package for Ukraine
For the third time in a row, the latest weapons cache seems to skimp on vital artillery shells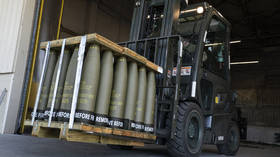 The Pentagon announced a $300 million arms package for Ukraine on Wednesday, ahead of a long-promised spring offensive by Kiev's forces. Ammunition shortages are reportedly plaguing the Ukrainian military, however, and the latest aid package will likely do little to alleviate the problem.
The package is the 37th tranche of military aid doled out to Ukraine by the US since August 2021. It brings to more than $35.7 billion the total amount of military aid doled out to Kiev by Washington since Russia's military operation in Ukraine began last February.
According to a statement from the Pentagon, the package includes ammunition for Ukraine's American-provided HIMARS rocket artillery systems, 155mm howitzers and artillery rounds, mortar rounds, wire-guided missiles, shoulder-fired anti-tank missiles, and Hydra-70 rockets, most commonly fired from attack helicopters.
As of January, the US no longer discloses how much of each ammunition type its arms packages include. Instead, the total number of each piece of equipment provided to date is noted on supplemental fact sheets enclosed with each statement from the Pentagon.
Ukraine was given more than half a million 155mm shells on March 20, bringing the total number given since last February to 1.5 million. However, Wednesday's package is the third tranche of arms announced since that date, and every fact sheet since has noted that Ukraine has received "over 1,500,000" 155mm artillery rounds.
This pace of delivery falls dramatically short of the 356,400 rounds per month that Ukraine needs to fire its Western-provided guns at full capacity, according to Ukrainian Defense Minister Aleksey Reznikov.
Ukraine has been gearing up for an offensive against Russian forces for several months now, with President Vladimir Zelensky stating on Wednesday that the operation would begin "soon." However, recently leaked Pentagon documents suggested that ammunition may hinder the offensive, and a report by Politico last month claimed that behind closed doors, the Biden administration is worried that the much-vaunted operation may fail.
Russia's position on Western arms deliveries remains unchanged, with Kremlin officials repeatedly warning that, by arming Ukraine, Western nations have made themselves de-facto participants in the conflict.
Kremlin spokesman Dmitry Peskov stated last month that no amount of foreign weapons would "influence the final outcome of the special operation."
You can share this story on social media: