US has doubts about Ukrainian 'counteroffensive' – Pentagon leaks
Alleged top secret documents warn of major concerns over Kiev's forces ability to reclaim territory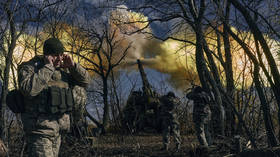 Documents said to have been leaked from US intelligence paint a bleak picture for Ukraine's much-anticipated counteroffensive, according to the Washington Post. If genuine, they raise doubts about Kiev's ability to field the manpower and ammunition needed to sustain major combat operations over the coming months.
Parts of the leaked trove began circulating online last month. Files labeled 'top secret' reveal American reservations about the upcoming counter-attack, warning that a lack of troops and ammunition could mean that Ukraine will fall short of its ambitious goals to retake lost ground over the spring, the Post reported on Monday.
"Enduring Ukrainian deficiencies in training and munitions supplies probably will strain progress and exacerbate casualties during the offensive," the document says, going on to cite Russia's sturdy network of defensive installations across the southern Kherson Region and Kiev's ongoing "force generation and sustainment shortfalls."
The document also suggests Ukrainian forces will aim to capture territory in the south and east, apparently hoping to cut off Russian troops advancing from Crimea. However, the intelligence assessment predicts only "modest" success in those goals.
A separate classified briefing prepared by the National Intelligence Council, seen by only select lawmakers on Capitol Hill, concluded that Kiev's counter-offensive is unlikely to be as successful as operations last fall, which did result in some regained ground, according to sources cited by the Post.
Yet another leaked document cited by the Wall Street Journal on Sunday also warned that Ukraine faces a "looming air defense crisis," which could prevent its military from massing the frontline forces needed for the counteroffensive. The assessment predicts that, at the current rate of consumption, Kiev will have exhausted its supply of Buk air defense missiles sometime this week, and all of its S-300 ammunition by May 3, leaving its skies largely undefended.
While the full scope of the leak – as well as the veracity of the documents, some of which appear to have been doctored – remains unclear, Pentagon spokesman Chris Meagher has acknowledged that the files "appear... to contain sensitive and highly-classified material."
During a Monday briefing, he said both the Pentagon and Justice Department are probing the matter, and that a criminal investigation was underway to determine the source of the unauthorized disclosures. A previous report in the New York Times indicated that more than 100 pages had been leaked in total.
The document trove contains a wealth of information about US and NATO war planning in Ukraine, including timelines for training and arms deliveries, data on ammunition expenditures, the structure of Ukrainian combat units, estimated Russian and Ukrainian losses, and, apparently, information regarding foreign special forces on the ground. Officials have declined to confirm the accuracy of their contents, however, saying only that they are investigating the leak.
You can share this story on social media: