Ukrainian air defense missiles to run out by May – WSJ
Kiev's forces are burning through their Soviet-era stocks, the Pentagon reportedly believes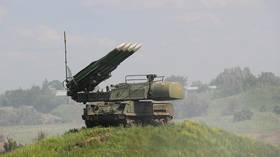 Ukraine will run out of most of its anti-air missiles by May, the Wall Street Journal reported on Monday, citing classified Pentagon documents leaked on social media. Facing the prospect of Russian air superiority, Kiev has been asking for more air defense systems from the West for months.
According to a purported Pentagon presentation dated February 28, Ukraine is expending around 69 Buk missiles and 200 S-300 missiles per month, the newspaper reported. At this rate of fire, Kiev's forces will be out of Buk ammunition by the end of this week, and will deplete its S-300 stockpile by May 3, it said.
Sourcing missiles for these Soviet-built platforms is proving difficult for Kiev and its Western backers. In their place, Ukraine has received three German Iris-T and eight American NASAMS anti-air systems. However, these systems consume around 64 missiles per month, and their limited number cannot cover as much territory as Ukraine's S-300s, according to the document.
To cover the shortfall, American military planners reportedly estimate that Ukraine needs 16 Iris-T or NASAMS batteries and 12 Patriot or SAMP-T batteries. US President Joe Biden has authorized the deployment of one Patriot battery, while Germany has pledged another and France and Italy have promised one SAMP-T system. None of these have reached Ukraine yet, a Ukrainian military spokesman told the Wall Street Journal.
Ukrainian President Vladimir Zelensky has been asking the US and its allies for more air defense systems since last year, calling this equipment his "number one priority." Zelensky and his aides have also pleaded for Western-made fighter jets like the American F-16, and while some European countries have said they are open to the idea, the US has thus far refused.
The Pentagon has not yet confirmed the authenticity of the presentation, which is part of a trove of secret documents leaked and posted on social media over the last week. Other files in the leak detail the US' war plans in Ukraine, its surveillance of its allies, and other "sensitive" material related to Ukraine, China, the Middle East, and terrorism.
You can share this story on social media: