US pilots ordered to keep distance from Crimea – WaPo
The instruction is reportedly based on a classified Pentagon map allegedly leaked online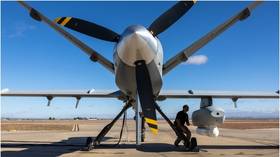 The US has reportedly instructed its military to fly surveillance aircraft farther from Crimea, Russia than allowed by international law, the Washington Post reported on Sunday, citing a leaked Pentagon document. The report comes after a trove of allegedly classified US files on the Ukraine conflict was dumped online last week.
According to the newspaper, one document maps an area where US spy planes may fly. It reportedly marks a boundary around 12 miles (19.3 km) off the coast of Crimea, the extent of Russia' territorial waters, and a second line about 50 miles (80.4 km) from the shore marked as 'SECDEF Direct Standoff'. The map indicates that Defense Secretary Lloyd Austin "may have ordered US pilots to keep aircraft farther from the peninsula," the Post wrote.
On March 14, the US European Command (EUCOM) said Russian fighter jets forced it to bring down its own MQ-9 Reaper surveillance drone that was flying in international airspace above the Black Sea. EUCOM claims that Russian Su-27s dumped fuel on the UAV and one struck its propeller.
The Russian Defense Ministry said the drone had entered a restricted area outlined by Moscow for its military operation in Ukraine. The MOD stated that the MQ-9 crashed on its own after going "into uncontrolled flight." Moscow also denied that there was physical contact between the drone and the planes dispatched to intercept it.
Last week, the Pentagon and the Department of Justice launched separate probes into the leaks of top-secret files. One document circulating on social media appears to be a daily dispatch from the battlefield and shows the disposition of Ukrainian forces, as well as their training schedule.
Another document seen by the Post claims that Russian jets nearly shot down a British reconnaissance aircraft over the Black Sea in September 2022.
You can share this story on social media: