Kiev admits to issues with Western weapons
Howitzers Ukraine received from Italy had to be upgraded, a top official said, after reports that none of the guns were battleworthy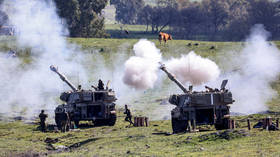 Ukraine has had to modify some long-inactive Western weapons sent to it by its backers, Mikhail Podoliak, a top adviser to Ukrainian President Vladimir Zelensky admitted in an interview published on Tuesday.
Speaking to Italian daily Corriere della Sera, Podoliak was asked to comment on a recent Financial Times report alleging that all 20 self-propelled howitzers Rome had sent to Kiev turned out to be defective and not ready for combat deployment.
The Ukrainian official attempted to downplay the revelation, saying that "the self-propelled guns had been in warehouses for a long time, they require an obvious operational upgrade." He added that "it often happens that this or that [Western] weapon is developed here in Ukraine," pointing out that Kiev needs all the weapons deliveries it could get, and as soon as possible.
"Understandably, the ideal would be to receive ready-to-use weapons but, let's be realistic, we are always ready to repair and refurbish them," Podoliak noted. He wouldn't give any further detail on the reportedly malfunctioning Italian howitzers, explaining that it would make no sense to disclose information that Russia could take advantage of.
In mid-April, Italian media reported that Rome had sent to Kiev a batch of old US-designed M109 SPGs (self-propelled howitzers) which had been stored in depots and were overhauled with American funding before being dispatched to the frontline.
However, after the FT's scathing report on the howitzers, in an interview with il Fatto Quotidiano, an Italian defense source described the guns as "outdated vehicles, which were not in use in Italy," adding that it was the very reason the weapons were sent to a US company to be retrofitted.
The source went on to shift blame away from the Italian government, suggesting that "the problem may have been in the maintenance phase."
This is not the first time that issues with certain Western weapons supplied to Ukraine have come into the public spotlight. On Wednesday, the New York Times reported that German-made Panzerhaubitze 2000 howitzers sent to Kiev had encountered significant difficulties on the battlefield due to "viscous central Ukrainian mud."
In late March, Ukrainian President Vladimir Zelensky himself acknowledged, without naming names, that a European nation had supplied Kiev with a faulty air-defense system, which the nation's military "had to change… again and again."
You can share this story on social media: