EU must shift to wartime economy – industry commissioner
The European bloc's arms sector is struggling to satisfy Kiev's growing demands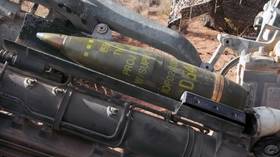 The European Union's industry chief has said the bloc will have to shift to a "wartime" economic model if it hopes to meet Kiev's battlefield needs, with senior Ukrainian officials voicing hopes for a massive influx of shells from their foreign sponsors.
Commissioner for Internal Market Thierry Breton discussed plans to bolster arms and ammo shipments to Ukraine during a sit-down with the Financial Times, saying he is working with the EU's foreign policy head Josep Borrell to expand industrial capacity in Europe, slash supply bottlenecks and pressure banks to boost their lending to facilitate military transfers to Kiev.
"I believe it is time that the European defense industry moves to a wartime economy model to cater for our defense production needs," he told the outlet on Friday, adding that he and Borrell are "fully determined to support the production ramp-up of the European defense industry to face the realities of a high-intensity conflict – starting with the question of ammunition."
Though unnamed diplomats voiced their doubts to FT – with one asking "How are we going to pay for this?" – the efforts to speed deliveries to Kiev and replenish Europe's own domestic stocks come after Ukrainian Defense Minister Aleksey Reznikov pleaded with the bloc for 250,000 artillery shells per month, vastly outpacing any existing EU plan.
In a letter to European defense chiefs on Friday, Reznikov spoke of the "crucial role" played by artillery on the battlefield, claiming Ukrainian troops burn through 110,000 155mm shells every few weeks.
Ukrainian troops are "limited by the amount of available artillery shells" and need at least 356,400 rounds per month to "successfully execute" their tasks – or a whopping 594,000 shells monthly to use their artillery power to full capacity, Reznikov claimed.
According to the Times, Borrell is aiming at a "less ambitious" scheme, instead hoping to disperse €1 billion over "the next few months" to partially cover the bill for donated shells from allies.
With costs soaring amid growing shortages on the continent, 155mm shells produced in Europe could run as much as €3,300 for a single round, a recent weapons contract inked between EU members suggests. Based on that estimate, the ammunition sought by Kiev could cost the bloc some €825,000,000 for just one month, though officials have yet to confirm any specific figures.
It is hard to trace how many shells Ukraine has been getting from the armories of its European backers, but over the past year the United States alone sent "over 1,000,000 155mm artillery rounds," according to the Pentagon's latest data.
You can share this story on social media: