Contents of latest Ukraine weapons package revealed
The US will give Kiev $400 million worth of HIMARS rockets and artillery shells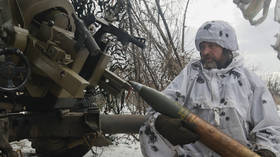 The US Department of Defense announced on Friday that it would send a new military aid package worth $400 million to Ukraine. The supplies include several calibers of artillery and ammunition, but the volumes of each have not been disclosed, amid reports of shortages.
The package is the 33rd tranche of military aid doled out to Ukraine since August 2021. Since the beginning of Russia's military operation in Ukraine last February, Washington has given Kiev more than $32 billion worth of arms, out of a fund of more than $110 billion allocated by the administration of President Joe Biden for military and economic aid.
Included in the package are 155mm and 125mm artillery shells, 25mm autocannon rounds, ammunition for High Mobility Artillery Rocket Systems (HIMARS), vehicle-launched bridges, demolition munitions, and repair equipment, according to a statement released by the Pentagon.
Until recently, similar statements would note the number of each kind of ammunition in the package. These figures have been omitted from every such statement since the beginning of January.
With Ukraine reportedly consuming ammunition at an unsustainable rate, the US is instructing Ukrainian troops to conserve their supplies, as the US military raids its foreign stockpiles to meet the demand. Military inventories in the US and Europe have been all but depleted by the effort to arm Ukraine, according to multiple media reports.
According to the Pentagon's most recent figures, the US has given Ukraine more than 1.4 million artillery rounds since last February. President Joe Biden has pledged to keep weapons flowing into the country "for as long as it takes," and that Ukrainian President Vladimir Zelensky – who has sworn to capture the Russian territory of Crimea – will decide when to negotiate with Moscow.
The Kremlin has repeatedly cautioned that continued Western support for Ukraine will only prolong the conflict without changing its outcome. The deepening involvement of the West also raises the likelihood of nuclear war between Russia and the US, Russian Deputy Foreign Minister Sergey Ryabkov warned on Thursday.
You can share this story on social media: