US pulling military gear from Korea for Ukraine
The Pentagon is scrambling to keep Kiev's forces fighting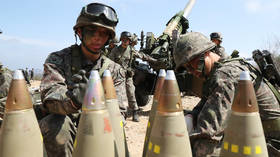 The US has asked its forces stationed in South Korea to provide military equipment for Ukraine, the Department of Defense said on Thursday. While the Pentagon did not state what kind of equipment would be requisitioned, earlier reports suggested that the US is sourcing artillery shells from Seoul.
US Forces Korea confirmed the Pentagon's request, with a spokesman saying that it would have "zero impact on our operations and our ability to execute on our ironclad commitment to the defence of our ally, the Republic of Korea."
The spokesman did not specify what kind of equipment had been requested, how much would be supplied, or whether any had already been transferred.
However, the New York Times claimed on Tuesday that the Pentagon has already given Ukraine 155mm artillery shells from its stocks in South Korea and Israel. The US has supplied Ukraine with just over a million of these shells, "a sizable portion" of which came from these two countries, the newspaper reported, citing an anonymous US official.
Ukrainian forces currently fire between 4,000 and 7,000 of these shells per day, according to American officials interviewed by CNN. Estimates of Russian fire have varied hugely from anywhere between 5,000 and 60,000 artillery rounds per day. Ukraine's artillery disadvantage is compounded by the fact that its Western-donated guns – the German-made Panzerhaubitze 2000 and American M777 howitzer, for example – were never designed for such sustained rates of fire, and are plagued by battlefield breakdowns.
The US is "looking under every rock" for ammunition, an anonymous official told Fox News on Wednesday. Months of media reports have suggested that the US-led effort to arm Ukraine has left stockpiles in some NATO nations close to the point of exhaustion.
Against this background, Defense Secretary Lloyd Austin traveled to Germany this week to head a meeting of the 'Defense Contact Group', a panel of nearly 50 countries that meet regularly to pledge new arms packages for Ukraine. Speaking before the meeting on Thursday, Austin said the US is looking to "energize the industrial base" to produce more weapons and ammunition.
You can share this story on social media: