Pentagon wants Kiev's backers to 'dig deeper'  
The Kremlin "is watching" how much weaponry the US and its allies will decide to send to Ukraine, the US defense secretary has warned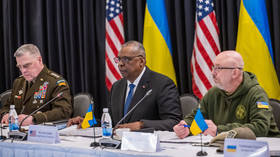 Nations providing weapons to Ukraine need to double down on their efforts because the country is facing a make-or-break moment, US Secretary of Defense Lloyd Austin said on Friday ahead of a key meeting of military donors in Germany.
"We need to keep up our momentum and our resolve, and we need to dig even deeper," the Pentagon chief said in his opening remarks before a meeting of the Ukraine Defense Contact Group at the US Ramstein air base. He described this as "a decisive moment for Ukraine and a decisive decade for the world."
Austin touted the latest military assistance package announced by the Pentagon this week as an example of Washington's leadership. The $2.5 billion commitment boosted total US military aid to Ukraine since hostilities with Russia broke out last February to over $26.7 billion, the US official noted.
He praised a number of NATO partners, including Poland, Canada, Germany, France, for their lethal aid to Kiev and urged further arming of the Ukrainian forces.
"The Ukrainian people are watching us. The Kremlin is watching us. And history is watching us," Austin declared.
Ukrainian Defense Minister Aleksey Reznikov will ask donors at the Ramstein meeting for more anti-aircraft systems, offensive weapons, including tanks, and "systematic ammo supplies," his department said in a tweet.
Whether or not Kiev will be given Western-made tanks has been a point of contention among NATO members. Poland and several other nations have said they were willing to provide German-made Leopard 2 main battle tanks from their fleets, pending Berlin's consent. The German government has reportedly conditioned its permission on the US leading by example.
The Pentagon declined to include M1 Abrams tanks in its latest package to Ukraine, citing "sustainment issues." The tank requires jet fuel to operate and is difficult to maintain, so it "just doesn't make sense to provide that to the Ukrainians at this moment," Deputy Pentagon Press Secretary Sabrina Singh told journalists on Thursday.
Moscow has accused the US and its allies of prolonging the conflict in Ukraine by forcing Kiev to eschew the pursuit of peace and also pumping it with weapons. It has pledged to achieve its security goals in the conflict regardless of how much support its adversary receives.
You can share this story on social media: