US wants to 'unlock' German tanks for Ukraine – DoD
Defense secretary Lloyd Austin is traveling to Berlin to convince his new German counterpart to hand over Leopard 2s to Kiev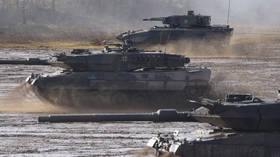 Washington claims Russia is preparing a new offensive and has sent Defense Secretary Lloyd Austin to meet with his German counterpart Boris Pistorius on Thursday. The two are set to discuss Berlin's long-standing reluctance to provide heavy tanks to Kiev, according to a news report on the Department of Defense's official website.
DoD News reports that Austin is already in Germany and is set to travel to Ramstein Air Base to meet with Pistorius, who has just been appointed to his role, to work on "unlocking" German Leopard 2 tanks for Ukraine.
The meeting is a prelude to a summit of the so-called Ukraine Defense Contact Group scheduled for later this week, which will see defense ministers from across Europe convene to discuss further military aid to Kiev.
US officials have claimed that Russia is preparing a spring offensive in Ukraine and have stressed the importance of providing Kiev's forces with the necessary equipment, such as air defense systems and artillery, to fend off Moscow's assaults and launch counterattacks of their own.
"But what's really important at this point is providing Ukraine with armor capabilities, and in particular, maneuver armor capabilities," a senior defense official was quoted as saying by the DoD.
While the US and its partners have already provided a total of about 900 armored personnel carriers to Ukraine, the Pentagon insists that the most crucial step is to provide Kiev with modern mechanized armored capabilities such as the German-made Leopard 2 – the most "immediately accessible and usable tank capability" in Europe, according to the Department of Defense.
The Leopard 2 heavy tank is currently operated by over a dozen European countries, some of which, notably Poland and Finland, have already said they are willing to pass on to Ukraine. However, in order to do this they must first receive a third-party transfer approval from Germany, which has so far refused to furnish this, insisting the US must first commit its own Abrams tanks to Kiev.
Russia, meanwhile, has continued to insist that any weapons being sent to Ukraine only served to prolong the conflict and lead to more unnecessary bloodshed. German tanks "will burn like the rest" of Western weapons, Kremlin spokesman Dmitry Peskov said Monday.
You can share this story on social media: