Ex-Russian president urges 'physical removal' of Zelensky
Dmitry Medvedev made the remarks following the Kremlin drone incident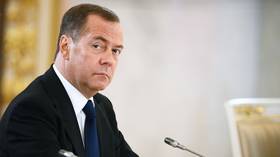 Former Russian president Dmitry Medvedev drew a comparison between Ukraine and Nazi Germany on Wednesday, after two drones targeted the Kremlin. The vice-chair of the national security council urged Moscow to retaliate against President Vladimir Zelensky.
"After today's terrorist act, there are no options left but the physical removal of Zelensky and his clique," Medvedev wrote on Telegram.
"We don't need him to sign [their] unconditional surrender. Hitler, as it is known, didn't sign his either. There will always be someone like Admiral Doenitz to sit in as president," he added, in reference to the Nazi officer who officially replaced Hitler after he committed suicide in April 1945 and presided over Germany's capitulation.
Medvedev's ire was provoked by last night's drone attack on Moscow, which Russia blamed on Ukraine. Two UAVs exploded over the Kremlin and the Russian Senate, with authorities saying they were brought down by air defenses. There were no injuries or reports of damage.
Russian President Vladimir Putin was not in the Kremlin at the time, working from another residence instead.
"We consider this a premeditated terrorist action and an attempt against the Russian president," the Kremlin said in a statement after the incident, adding that "Russia reserves the right to retaliate in a manner, place and time of its choosing." City authorities in Moscow and St. Petersburg have already responded by imposing a ban on drone flights.
Medvedev was president of Russia between 2008 and 2012, and then prime minister until 2020. Currently, he serves as the deputy chair of the national security council, which is formally chaired by Putin. Despite his prior reputation as a moderate liberal, he has been far more hawkish on Ukraine than the official Kremlin.
Last week, for example, Medvedev advocated "mass destruction of personnel and military equipment" and a "maximum military defeat" of Kiev once the much-hyped Ukrainian counteroffensive begins, arguing that the "Nazi regime in Kiev" must be "completely dismantled" and "former Ukraine" entirely demilitarized.
Kiev has officially denied having anything to do with the drones. Zelensky insisted that Ukraine fights on its own territory and has no weapons to reach Moscow. His aide, Mikhail Podoliak, insisted Ukraine was fighting "an exclusively defensive war" and claimed the Kremlin attack was the work of "local resistance forces" in Russia. The Ukrainian postal service has already released a stamp design showing the Kremlin in flames, however, just as they did after the Crimean Bridge bombing last October – also denied by Zelensky and his government.
You can share this story on social media: