Ex-Russian president calls for 'complete' dismantling of 'Kiev regime'
Only a crushing military defeat will "calm down" the Ukrainian leadership, Dmitry Medvedev has said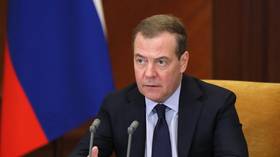 Former Russian President Dmitry Medvedev has called for the "complete dismantling" of the "Kiev regime," as well as for inflicting "mass destruction" on the country's military personnel and hardware.
Medvedev, who currently serves as deputy chair of Russia's National Security Council, made the remarks in a Telegram post on Friday, commenting on an interview Ukrainian President Vladimir Zelensky recently gave to several Nordic media outlets. He summarized Zelensky's comments as consisting of demands for more weapons from Kiev's Western backers and promises of a successful counteroffensive, including an attack on Crimea, while also warning that the conflict may drag on for "decades."
While the interview appeared to be "contradictory" and "delusional," even such statements should not be underestimated, Medvedev warned.
One should not underestimate even delusional speeches. This is a hysterical manifesto of the Kiev regime, which is seeking to consolidate its Nazi elites, maintain the morale of the troops and receive additional support from its sponsors.
To successfully foil Kiev's plans, Russia must inflict "mass destruction of personnel and military equipment" during the much-hyped Ukrainian counteroffensive and inflict a "maximum military defeat" on Kiev's military, Medvedev said. Ultimately, the "Nazi regime in Kiev" must be "completely dismantled" and demilitarized throughout the entire territory of "former Ukraine," he added.
Apart from that, Russia must pursue those who manage to flee, and seek "retribution" against the "key figures of the Nazi regime, regardless of their location and without statute of limitations," Medvedev stressed. Anything short of that would not suffice, the ex-president believes.
"Otherwise, they will not calm down, and the drug-addled nonsense can turn into reality and the war will drag on for a long time. Our country does not need that," Medvedev said.
The ex-president has repeatedly warned Kiev against any attempts to seize the Crimean peninsula, which broke away from Ukraine in the aftermath of the 2014 Maidan coup and joined Russia after locals overwhelmingly supported such a move during a referendum.
Last month, Medvedev issued a nuclear warning to Kiev, cautioning that any attempt at a "serious offensive" targeting the peninsula would be "the basis for the use of all means of protection, including those provided for by the fundamentals of the Doctrine of Nuclear Deterrence."
You can share this story on social media: