Zelensky warns conflict with Russia could last 'hundreds of years'
Cheaper for the West to help Kiev defeat Moscow than risk World War III, the Ukrainian president claims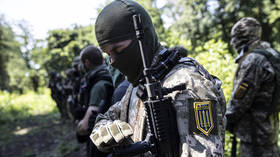 The conflict with Russia could last for a very long time if Ukraine doesn't get enough assistance from its foreign backers, Ukrainian President Vladimir Zelensky claimed in an interview with several Nordic media outlets on Friday.
When asked about suggestions coming from some in the West that Kiev might have to give up territory in order to achieve peace with Moscow, Zelensky replied that people voicing such ideas are only thinking about the present, not the future.
"But this isn't an issue for today. This issue isn't for a year, this issue maybe for decades or hundreds of years," he said.
It would be "a lot cheaper" for the international community to help Kiev achieve victory, the Ukrainian leader argued, warning that "there's a high risk that that if Ukraine doesn't win, there'll be a World War III."
However, Zelensky expressed confidence that Ukraine's planned counteroffensive will allow Kiev to reclaim Russia's newly incorporated territories along with Crimea.
"A counteroffensive will happen. We are preparing for it," Zelensky said. "I strongly believe that it will be successful and that we will de-occupy our territories."
"We will go forward … there cannot be any questions about that," the president said. However, he reiterated that the ultimate outcome would depend on the deliveries of foreign arms. "For example, there is a risk that we will not have enough armored vehicles," Zelensky warned.
The Ukrainian leader's comments came after Politico magazine reported on Monday that the White House was worried that the much-hyped operation's impact could fall short of expectations. The New York Times, meanwhile, warned that Western support for Kiev could weaken, and that Ukraine could come under pressure to resume negotiations with Russia if the offensive does not bring "a decisive victory."
Crimea voted to leave Ukraine and join Russia in the wake of the Western-backed 2014 coup in Kiev. The Donetsk and Lugansk People's Republics, together with Kherson and Zaporozhye Regions, did the same after holding referendums last September. Ukraine considers these territories illegally occupied by Russia.
Earlier this month, the Kremlin said that the Russian military was carefully monitoring information about Ukraine's preparations for its counteroffensive. Russian President Vladimir Putin stated last year that Moscow would defend its territory by all means necessary.
You can share this story on social media: