Russia warns of 'retaliation' for Ukrainian attack on Kremlin
Authorities have accused Kiev of targeting Putin's residence with drones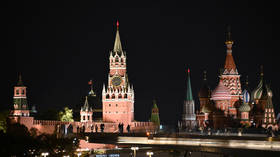 Russia reserves the right to retaliate "anywhere and anytime it deems necessary" in response to the drone attack on President Vladimir Putin's residence, the Kremlin has said.
Officials claimed two Ukrainian drones attempted to strike the Kremlin early on Wednesday morning, but the raid was thwarted.
The president was not hurt in the "terrorist attack," and the Kremlin complex did not suffer any damage, Putin's office said.
Putin's spokesman Dmitry Peskov told RIA Novosti that the Russian leader was not in the Kremlin when the raid happened. He added that Putin was working at his Novo-Ogaryovo residence near Moscow on Wednesday.
The attack took place as Russia prepares for Victory Day celebrations on May 9. The centerpiece of the commemoration of the victory against Nazi Germany and its allies in World War II is the annual military parade on Red Square, just outside the Kremlin walls.
Putin and other top officials, as well as foreign guests, will attend the event. Peskov said the parade would take place as scheduled.
You can share this story on social media: