Ukrainian assassination attempt on Putin foiled – Kremlin
Moscow claims that Kiev attempted to strike the President's residence with two UAVs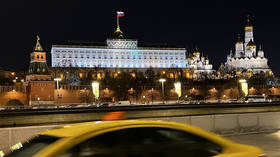 Ukraine launched two drone attacks overnight intended to strike the Kremlin residence of Russian President Vladimir Putin, his office has reported. The aircraft were downed using electronic warfare measures and caused no casualties or damage, according to a presidential administration statement. Moscow considers the incident an act of terrorism.
The attack occurred late on Tuesday night, and both unmanned aircraft fell on the grounds of the Kremlin in Moscow, according to the president's office, who also confirmed that the Russian leader's schedule was not affected.
"We consider this a preplanned terrorist action and an attempt against the Russian president," it added. The incident happened "ahead of Victory Day and the parade on May 9, when foreign guests plan to be present."
Russia reserves the right to retaliate in a manner, place and time of its choosing, the statement noted.
Putin's spokesman Dmitry Peskov told journalists that the president was absent from the Kremlin when the drones were downed. He is currently at the presidential residence in Novo-Ogaryovo in Moscow Region, to the west of the capital.
There is footage circulating on social media, which purports to show the aftermath, with a plume of smoke juxtaposed against the night cityscape above the territory of the historic seat of Russian power.
Another short clip appears to show the moment one of the drones exploded over the Kremlin Senate, which hosts the presidential administration and also serves as a working residence of the Russian head of state. It was not clear what caused the blast, though two people can be seen in the video on the dome of the building.
You can share this story on social media: