Moscow bans use of drones
Restriction comes after two Ukrainian drone attacks launched overnight targeting the Kremlin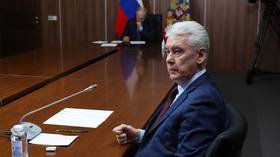 Moscow's authorities have banned the unauthorized use of drones, the Russian capital's mayor Sergey Sobyanin announced on Wednesday. The measure was introduced shortly after an unsuccessful Ukrainian attempt to attack the Kremlin residence of Russian President Vladimir Putin with unmanned aerial vehicles (UAVs).
Writing on Telegram, Sobyanin said that the flying of UAVs in the Russian capital would be prohibited starting from today, with an exception being made for drones used with the authorities' approval.
"This decision was taken in order to prevent unauthorized use of UAVs, which could hamper the work of law enforcement agencies," the mayor explained, reminding his audience that anyone who breaks this rule could face administrative and criminal liability.
The announcement was made as the Kremlin press service reported that overnight Kiev forces attempted to strike Putin's residence by using two drones. The service noted that the Russian leader was not hurt by what it described as "a terrorist act," with the UAVs being neutralized by electronic warfare measures. Neither did the drones cause any other casualties or damage, it added.
Since the start of the conflict more than a year ago, Kiev forces have repeatedly resorted to drone attacks to target Russian civilian and military infrastructure facilities, including those located far from the countries' border.
In late April Ukraine claimed it was behind the attack on an oil terminal in the Crimean port of Sevastopol, which destroyed four oil tanks, according to local authorities. Kiev stated then that the raid was meant to lay the ground for a much-talked-about Ukrainian spring counteroffensive.
That same month Russian media reported that a drone, allegedly of Ukrainian design and carrying about 17kg of explosives, crashed not far from Moscow after running out of fuel.
You can share this story on social media: