US envoy questions Russian use of term 'Anglo-Saxons'
Ambassador Lynne Tracy's public statements have drawn sharp rebukes from the Kremlin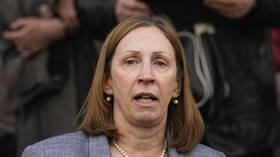 US ambassador to Russia Lynne Tracy has argued that the Kremlin shouldn't use the term "Anglo-Saxons" to describe American and British leadership, as the US is "enriched" by immigrants. Tracy's tenure in Moscow has already proven contentious, with Russia's Foreign Ministry accusing her of "direct interference" in the country's affairs.
Russian officials, including President Vladimir Putin and former President Dmitry Medvedev, have repeatedly used the term "Anglo-Saxons" to describe the foreign leaders – mostly in the UK and US – pushing the hardest anti-Russia policies. The publication of Russia's updated foreign policy doctrine last month made its use official, listing "the US and other Anglo-Saxon states" separately from countries in the "European region."
"I noticed the use of this term, but…it seems very strange to me," Tracy told the Kommersant newspaper on Thursday. "And it does not at all reflect the essence of the United States, which is a multinational country where people from all over the world live."
"And all of them, as you know, have contributed to American culture, greatly enriched American life," she added.
Tracy's issue, however, with the Kremlin's phrasing is relatively minor compared to the numerous other controversies that have emerged since she arrived in Moscow in January.
Tracy, along with Britain and Canada's envoys to Russia, were summoned to the Russian Foreign Ministry earlier this month for demanding the "immediate release" of Vladimir Kara-Murza, an opposition activist who was found guilty of treason and handed a 25-year prison sentence.
Tracy's "provocative statements" amounted to "blatant interference into internal affairs," the ministry said, referring to Kara-Murza as a US-backed "agent of influence."
The ministry responded unfavorably to Tracy's Kommersant interview too, particularly her comment that Washington "does not view Russians as enemies." Foreign Ministry spokeswoman Maria Zakharova stated on Friday that despite Tracy's platitudes, "Russian people are getting killed" with American weapons, wielded by "a regime that was brought to power by the US as a result of a coup orchestrated by the US."
Speaking to reporters on Friday, Zakharova did not directly address Tracy's "Anglo-Saxons" comment. However, she did stress that any interference by envoys of the US, Britain, Canada, or "other countries that have joined the frenzied Russophobia of the Anglo-Saxons…will be suppressed in the most decisive way, and the diplomats involved in this subversive work will be expelled from Russia."
You can share this story on social media: