US helping to 'kill Russians' – Moscow
The Foreign Ministry's spokeswoman took issue with comments by the American ambassador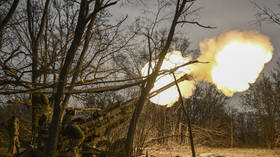 The US is directly contributing to the deaths of Russians by providing military and financial aid to Ukraine, Russian Foreign Ministry spokeswoman Maria Zakharova claimed on Friday. She was reacting to a Kommersant interview with Lynne Tracy, the US ambassador to Moscow, who stated that Washington "does not view Russians as enemies."
"The Russian people are getting killed with targeting done by the US, money [provided] by the US, weapons [supplied] by the US, and by the hands of a regime that was brought to power by the US as a result of a coup orchestrated by the US," Zakharova wrote on Telegram, referring to the Western-backed 2014 uprising in Kiev that ousted the democratically elected president, Viktor Yanukovich.
In an interview published in Russian newspaper Kommersant on Thursday, Tracy said she supports informal contacts between Americans and Russians, and that the US "does not want to 'cancel' the Russian people in any way."
"No matter what differences we, the United States, have with the Russian government, they are not differences with the people of Russia," she said.
The Foreign Ministry later issued a statement criticizing the ambassador's interview, in which it accused Tracy of cherry-picking and fabricating facts about Ukraine's recent history. The US diplomat claimed that "a situation in which a leader who lost support and got scared of his own people takes a decision to flee" could not be called a coup.
"Madam Ambassador probably does not know and was not informed by her aides that this simple puzzle… lacks the truth and correct sequence of events," the ministry said.
The statement went on to explain that the protests in Kiev were infiltrated by violent extremists supported by US officials, and ended with a power-sharing agreement that the opposition forces immediately broke. Tracy's failure to acknowledge the nature of the events in Kiev can be explained by either amnesia or ignorance, while her description has nothing to do with reality, the Russian ministry added. The statement included a screenshot of the interview with a large red 'FAKE' stamp on it.
Washington imposed sweeping sanctions on Moscow shortly after Russia launched its military operation in Ukraine in February 2022. The US and many other NATO countries have since supplied Kiev with heavy weapons, including tanks and artillery systems, and shared intelligence with Ukraine. The State Department said in January that it was up to Kiev to determine how to use foreign arms.
Russia has warned that the military aid makes the US and NATO de facto direct participants in the conflict. Moscow also repeatedly accused Ukraine of using US-made weapons, such as HIMARS multiple rocket launchers and M777 howitzers, to kill civilians.
On April 13, Ukrainian troops used HIMARS launchers to shell a hospital in the Donbass city of Svatovo, local officials said. On Thursday, several areas in the Donetsk People's Republic were hit with rockets and artillery rounds, leaving one woman dead and eight people, including four children, injured, according to the authorities.
You can share this story on social media: