Moscow summons British, Canadian and US envoys
The diplomats interfered in Russia's internal affairs with their comments on the sentencing of a Russian opposition activist, Moscow has said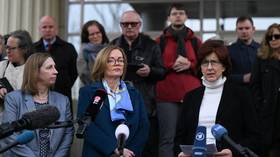 The American, British, and Canadian ambassadors in Moscow were all summoned by the Russian Foreign Ministry on Tuesday, over claims of interference in the country's internal affairs. The move was sparked by their comments on the sentence handed down to opposition activist Vladimir Kara-Murza, who was found guilty of treason and slandering the army on Monday.
A Russian-British dual-national, Kara-Murza was sentenced to 25 years in prison by the Moscow court. The three ambassadors publicly read a joint statement condemning the court's decision following the verdict and calling for his "immediate release."
The "provocative statements" by the envoys are aimed at exerting pressure on the Russian judiciary and amount to nothing but "blatant interference into internal affairs," the ministry said in a series of statements on the matter on Tuesday.
Attempts by Washington and its allies to publicly support a US-backed "agent of influence" look particularly "ridiculous and hypocritical" against the background of a crackdown on freedom of speech in America and other western nations, the ministry stated.
Any attempts to "drive a wedge" between various parts of Russian society will be thwarted, the statement said, adding that embassy staff members who use their diplomatic cover for such "disruptive activities" would be expelled from Russia.
On Monday, Russian Foreign Ministry spokeswoman, Maria Zakharova, blasted the three ambassadors' actions as "shameless hypocrisy," pointing to the "inhumane treatment" of Wikileaks co-founder Julian Assange by the British court system.
Assange has been held in the UK's maximum-security Belmarsh Prison since 2019, as Washington presses for his extradition to try the journalist on charges which could see him sentenced to 175 years in prison.
Zakharova called on the UK to abandon its "neo-colonial habits" in diplomacy and insisted that attempts to pressure the Russian judges into taking certain decisions "are doomed to fail from the onset."
Kara-Murza, who has permanent residence status in the US, served as vice chairman of the Washington-based Free Russia Foundation – a US-funded pressure group which pushes for "regime change" in Moscow. He was charged with state treason and cooperating with "undesirable" organizations linked to foreign powers hostile to Russia.
Given Kara-Murza's dual UK-Russian citizenship, London has also officially summoned Andrey Kelin, the Russian Ambassador to the UK, over the verdict, which London called "politically-motivated."
You can share this story on social media: