Western arms may not be enough, Ukrainian troops tell NYT
Russia has the battlefield advantage despite Kiev's foreign backing, soldiers on the frontline have told the newspaper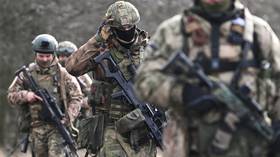 Ukrainian troops on the conflict frontline are concerned that Russian forces still have the advantage, despite the extensive military assistance sent by Kiev's backers, The New York Times has reported.
"I don't know where the Russians are getting so much artillery," a 43-year-old Ukrainian private named Pavel, who is deployed near the Donbass city of Ugledar, told the US newspaper.
"And there are also tanks, helicopters, and jets. The guys can't get in and out of their positions, the firing is so heavy," he complained. "We can't go up against them with rifles. We need heavy equipment on the ground and support in the air."
Kiev is expected to launch a counteroffensive against Russia within weeks, utilizing tanks, armored vehicles, and other heavy weapons provided by the West. Ukrainian Defense Minister Aleksey Reznikov said on Friday that the troops were ready for the order to attack.
A company commander, who uses the callsign Dolphin, told the newspaper that his men's morale was high and they they wanted to go on the offensive, despite the numbers not being in their favor.
"We lost our best people – those who died and those who were taken out of the fight because of injuries," he said of the unit's recent action against Russian forces.
"But there is one but," he added. "There are more of them, but we're stronger."
Another fighter, a 23-year-old sergeant by the name of Michael, described a lack of training in operating Western weapons. He is the only one in his company who knows how to properly use a US-made Mk-19 grenade launcher, the article said.
"At the time it entered into service with the Ukrainian armed forces, there were no instructors who could explain how to work it," he said. "The manuals were only in English and in the Ukrainian military few speak English."
Michael, according to NYT, has five years of experience with grenade launchers and is sharing it with others.
Moscow cited the creeping expansion of NATO into Ukraine and a growing threat to Russian national security stemming from it as one of the key reasons for launching its military operation in February 2022.
You can share this story on social media: