Kremlin responds to leak of 'secret' NATO war plan
Russia was aware of Western involvement in Ukraine even before the documents were leaked online, Dmitry Peskov repeated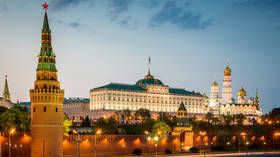 Moscow is already aware that the US and NATO are involved in the Ukraine conflict, President Vladimir Putin's spokesman told CNN on Friday. Dmitry Peskov was responding to a question about American military documents that had appeared online.
"We don't have the slightest doubt about direct or indirect involvement of the US and NATO in the conflict between Russia and Ukraine," the spokesman explained.
"This level of involvement is rising gradually," he added. "We keep our eye on this process. Well, of course, it makes the whole story more complicated, but it cannot influence the final outcome of the special operation."
Peskov did not directly address the documents that appeared online earlier this week, purporting to show internal US assessments of Ukrainian troop strengths, ammunition expenditures, and preparations for the upcoming "spring counteroffensive."
The briefing presentation slides also included US assessments of Russian and Ukrainian casualties, rates of fire, equipment deliveries to Kiev from NATO countries, and training schedules. Some of the slides were marked "top secret."
One particular document indicated that the US and NATO were training and equipping nine of Ukraine's 12 new combat brigades, estimating that six would be ready by the end of March and the remaining three by April 30.
While it was impossible to verify the documents' authenticity, the Pentagon told the New York Times on Thursday that it was investigating a possible leak and trying to get them scrubbed off the internet.
Ukrainian officials have been heralding a major attack at some point this spring, using the tanks, armored vehicles and artillery already provided by the US and its allies. Kiev has also complained about a lack of ammunition, asking for more.
You can share this story on social media: