Blinken predicts start of Ukrainian counteroffensive
The US secretary of state has suggested Kiev could attempt to retake former territories in the next few weeks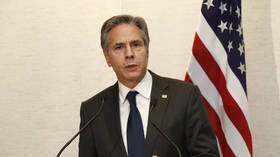 US Secretary of State Antony Blinken has suggested that Ukraine will likely launch a long-anticipated counteroffensive in the next few weeks. Speaking to the Funke Media Group on Friday, the diplomat claimed that any decision to start the operation, which could include attempts to retake Crimea, must ultimately be made by Kiev.

Crimea rejoined Russia in 2014, when residents overwhelmingly voted in favor of the move in a referendum held shortly after the Maidan coup in Kiev.

Blinken stated in the interview that there are "two goals for Ukraine's many friends and partners" in the current conflict with Russia. The first aim is helping Kiev win back territories, which means assisting in a counteroffensive, the diplomat argued.
The second goal, according to the secretary of state, is supporting Ukraine in building up its medium- and long-term capacities to deter Russia and to allow Kiev to defend itself from any future attack.
In response, Kremlin spokesperson Dmitry Peskov told journalists on Friday that the Russian military will take Blinken's comments into account when planning its own moves in the conflict.
Ukrainian Foreign Minister Dmitry Kuleba pointed out last week that Kiev is concerned that the planned advance would not result in Russia being "100%" pushed out of the territories that Ukraine intends to reclaim. He urged Kiev's Western backers not to treat the counteroffensive as a make-or-break moment, and called on them to maintain their support regardless of its outcome.
Earlier this week, Ukrainian Defense Minister Aleksey Reznikov stated that beginning from April or May, Kiev's forces will use newly supplied Western hardware, including German Leopard tanks, to attack Russian-held areas.
Former Russian President Dmitry Medvedev has insisted that Ukrainian talk of a large-scale spring offensive that would also target Crimea is merely "propaganda." However, Medvedev did warn that if the peninsula came under attack, Russia would be justified in using "all means of protection," including nuclear weapons.
You can share this story on social media: