Ukraine not ready for offensive – Zelensky
Kiev's troops are suffering from a lack of ammunition, the Ukrainian president has said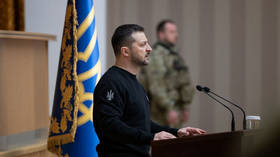 Ukraine has not yet accumulated enough resources to stage an offensive, President Vladimir Zelensky has admitted.
In an interview released on Saturday by the Japanese newspaper Yomiuri, Zelensky said that the situation on the frontline "was not good," explaining that Kiev's forces lacked enough ammunition to launch an operation.
On the subject of an offensive, the Zelesnky stated that "we can't start [it] yet. Without tanks, artillery and [US-supplied rocket launchers] HIMARS, we cannot send our brave soldiers to the front lines."
"We are waiting for ammunition to arrive from our partners," he added, claiming that Russian troops had been firing three times as many shells as the Ukrainian side.
In light of this, he reiterated his calls for Kiev's Western backers to send more arms and urged them to sign off on deliveries of fighter jets.
Commenting on a potential dialogue with Russia, Zelensky insisted that "absolutely no conditions have been formed for this," suggesting that Russian forces would have to leave the territories Ukraine claims as its own first. Moscow has repeatedly said that it is open to talks with Kiev on condition that it recognize the "reality on the ground," referring to the new status of four former Ukrainian regions as part of Russia.
Speculations about an imminent Ukrainian spring counteroffensive have been swirling in the Western media for several weeks now. Last week, Politico reported that the US expected Kiev to start the offensive in May, with Ukrainian troops attempting to push into Crimea either by crossing the Dnieper River – which was considered an unlikely option – or moving out from their positions in the north.
Around the same time, the New York Times reported that Western officials were worried that Ukraine's costly attempts to hold on to the strategic Donbass city of Artyomovsk (known as Bakhmut in Ukraine) could jeopardize the upcoming offensive, given that Kiev's Western backers would not be able to replenish its ammunition stocks any time soon. With this in mind, one Pentagon official cited by the outlet described the anticipated push as a "last-ditch effort."
On Friday, former Russian President Dmitry Medvedev, who serves as deputy chairman of the Security Council, said that Moscow is well aware of Ukrainian plans to stage an offensive, noting that Russia's General Staff is making its own assessments on the matter and planning a response.
You can share this story on social media: