Ukraine claims it has assembled manpower for new offensive
Eight new brigades have been assembled, Interior Minister Igor Klimenko has stated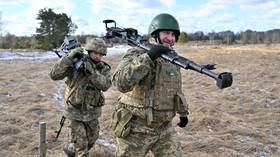 Kiev has completed the recruitment of its so-called "Attack Guard," which has been assembled with the aim of retaking territories lost to Russia during the ongoing conflict, Ukrainian Interior Minister Igor Klimenko has said.
"As of today, eight new brigades have been put together, and we're ready for active offensive measures," he claimed during a TV appearance on Friday.
Klimenko didn't reveal the exact number of personnel in the new force, but a brigade usually consists of between 3,000 to 5,000 troops.
Thousands of men have volunteered to join the "Attack Guard" since the recruitment drive began in early February, the minister said.
No new applications are being accepted at the moment and those who have already submitted their papers are being assigned to reserve units, he added.
The Interior Ministry said earlier that it was putting together the "Attack Guard" with the aim of restoring Kiev's control over territories that used to be part of Ukraine before 2014.
This includes the Donetsk and Lugansk People's Republics, and Zaporozhye and Kherson regions, which voted to become part of the Russian state in referendums last autumn, as well as Crimea, which reunited with Russia nine years ago.
The force has reportedly only accepted trained recruits, including members of the military, police officers and border guards.
Earlier this week, Ukrainian Defense Minister Alexey Reznikov announced that Kiev's troops would use newly supplied Western hardware, including German Leopard tanks, to attack Russian-held areas in multiple directions, starting in April or May.
However, President Vladimir Zelensky said last week that the Ukrainian military hasn't yet accumulated enough resources to launch the much-anticipated counteroffensive, emphasizing shortages of ammunition in particular.
Foreign Minister Dmitry Kuleba told the Financial Times on Wednesday that Kiev was concerned that the planned advance wouldn't result in Russia being "100%" pushed out of the territories Ukraine wishes to reclaim. "We should counter by all means the perception of the counteroffensive as the decisive battle of the war," he insisted.
Former Russian president and current deputy head of the country's Security Council Dmitry Medvedev said earlier this week that Kiev's claims that it would carry out a large-scale offensive that would also target Crimea were just "propaganda."
However, Medvedev warned that if the peninsula were actually attacked, it could become "the basis for the use of all means of protection, including those provided for by the fundamentals of the Doctrine of Nuclear Deterrence."
You can share this story on social media: