Ukraine targeting Russian civilian satellites – Moscow
Kiev and "a number of foreign states" are trying to tamper with means of communication, the foreign ministry has said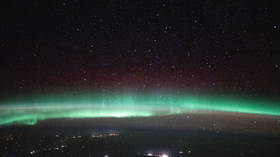 Ukraine has been trying to disrupt Russian civilian communication satellites, the foreign ministry in Moscow said on Wednesday, adding that unspecified foreign states were aiding Kiev in the effort.
"The Kiev regime, with the participation of specialists from a number of foreign states, is attempting to interfere with Russian civilian communication satellites. This is an outrageous violation of international law," the ministry said, warning that Moscow was in its full right to "respond appropriately" and possesses all the "necessary capabilities" to do so.
It was not immediately clear how precisely Kiev had tried to disrupt the satellites, as the ministry did not elaborate on the matter any further. Russia has repeatedly experienced disruptions of TV broadcasts during the ongoing hostilities with Ukraine. Ukrainian President Vladimir Zelensky briefly appeared on TV in southwest Russia back in January, with Belgorod authorities acknowledging the disruption affected satellite broadcasts.
The other side has been experiencing similar disruptions as well, with arguably the most notable one occurring last June, when two Ukrainian sports channels showed an interview with Russian President Vladimir Putin instead of a World Cup football match.
Western governments and private companies have provided Ukraine with satellite coverage for months. Most notably, the Starlink satellites operated by Elon Musk's SpaceX have become important tools for the Ukrainian troops in the ongoing conflict with Russia.
Back in October, Russian diplomats warned that such satellites may end up becoming a legitimate military target.
"We are talking about the US and its allies using civil infrastructure components in space, including commercial ones, in armed conflicts," Konstantin Vorontsov, the deputy head of the non-proliferation and arms control department at the Russian Foreign Ministry, said at the time.
Responding to Vorontsov's remarks, US National Security Council spokesperson John Kirby warned that Washington would "hold Russia accountable for any such attack, should it occur."
You can share this story on social media: