Zelensky appears on Russian TV
TV broadcasts in Russia's southwest were briefly disrupted by an address from the Ukrainian president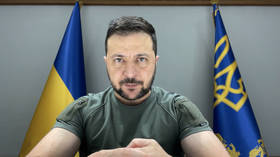 Ukrainian President Vladimir Zelensky made a surprise appearance on Russian TV on Wednesday, when digital broadcasts were disrupted in an apparent hacker attack across southwestern regions of the country.
TV viewers in Belgorod Region, as well as in Crimea, reported that their viewing was interrupted by an address from Zelensky, who was speaking Ukrainian. It lasted for about a minute before programs continued as scheduled.
Crimean officials blamed the incident on a hacker attack, pointing fingers at Ukraine's intelligence services and their "mischief."
"Facing a deplorable situation at the frontlines, the Ukrainian special services resort to hacking into Internet broadcasting and displaying their Zelensky clown. At the same time, on-air broadcasting on TV channels has been going on and is going on as usual," a media adviser to the Crimean government, Oleg Kryuthckov, told RIA Novosti.
Belgorod authorities, however, were not that quick to assign blame, stating that a probe into the incident has been launched. The disruption affected satellite broadcasts, according to the press service of the regional government. Operators had to re-direct the signal from a backup satellite to flush out Zelensky's address, it added.
Assorted disruptions of TV broadcasts have repeatedly occurred amid the ongoing hostilities between Russia and Ukraine, affecting both sides of the ongoing conflict. One of the most notable incidents of this kind happened last June, when two Ukrainian sports channels showed an interview with Russian President Vladimir Putin instead of a World Cup football match.
You can share this story on social media: