Ukrainian plane crashes in Russian border region – FSB
The pilot of the light aircraft has been detained by the border guard service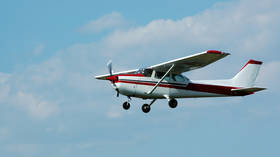 A light Ukrainian plane has crashed in Russia's Bryansk Region near Ukraine, the Federal Security Service's (FSB) border guard said on Wednesday.
The pilot of the aircraft survived the crash and was detained. The border service did not specify whether it was a military or civilian plane.
Images shared online purport to show the pilot, who appears to be wearing military-style garb and a camouflage baseball cap.
The plane crashed for "unknown reasons" near the village of Butovsk, located 25km from the border, the agency said. The pilot attempted to escape back to Ukraine but was intercepted by a border patrol.
The aircraft, similar to a Ukrainian-built Aeroprakt A-22 Foxbat ultra-light plane, crash-landed in an open field, imagery emerging online suggests. The pilot reportedly was in possession of a bullet-proof vest and a compact AK assault rifle that he tried to dispose of at the crash site.
Earlier in the day, Bryansk Region was attacked by a Ukrainian unmanned aerial vehicle (UAV), according to the governor, Aleksandr Bogomaz. The UAV dropped an explosive device in the Suzemsky District of the region, which borders Ukraine, leaving at least one person injured.
Bryansk, as well as other Russian regions on the Ukrainian border, have repeatedly come under attack by Kiev's forces amid the ongoing hostilities between the two countries, which have dragged on for over a year now. The attacks usually involve cross-border artillery and mortar shelling, as well as UAV strikes.
You can share this story on social media: