Nobel Prize winner sentenced to 10 years  
Ales Belyatsky was accused of smuggling cash and fomenting civil unrest in Belarus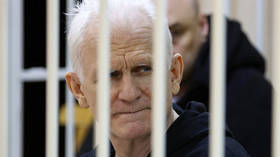 A Belarusian court has sentenced Nobel Peace Prize winner Ales Belyatsky to 10 years in prison on cash smuggling and breach of public order charges.
Friday's sentence came as part of a major case against members of the Vesna (Spring) human rights center. In addition to the 60-year-old Belyatsky, lengthy terms were imposed on three other activists. All of the accused deny any wrongdoing.
According to Belarusian prosecutors, members of the human rights group cashed out hundreds of thousands of dollars in Lithuania between 2016 and 2021, after receiving the money from various foreign organizations. The funds were then moved across the border without being declared, the prosecution insisted.
The defendants were also said to have aided participants in anti-government protests in Belarus between 2020 and 2021, while financing the unrest "under the guise of human rights and charity activities." At the time, thousands of Belarusian citizens took to the streets to protest against incumbent leader Alexander Lukashenko's victory in the presidential election.
As well as serving 10 years in a high-security prison colony, Belyatsky was ordered to pay a fine of 185,000 Belarusian rubles ($73,000).
Belyatsky has served time in prison in the past. In 2011, he was sentenced to four and a half years on tax evasion charges after allegedly storing money in foreign banks. The activist insisted that the funds in question did not belong to him.
Belyatsky was awarded the Nobel Peace Prize last October, along with the Russian and Ukrainian human rights groups Memorial and the Center for Civil Liberties. The Nobel Committee said that the laureates had "for many years promoted the right to criticize power and protect the fundamental rights of citizens."
You can share this story on social media: