Belarus and China never intend to work against third nations – Lukashenko
Veteran president says Minsk and Beijing seek mutual prosperity and don't undercut other countries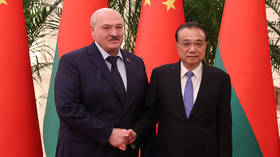 Belarusian President Alexander Lukashenko underscored the importance of ties with Beijing for his country's future and said that in pursuing closer relations neither country seeks to undermine others, in comments delivered on Wednesday during a three-day trip to China.
"We wish you success, which is pragmatic for us, because if China is strong, Belarus will be strong and will develop," the leader of Belarus told Li Keqiang, the premier of China, during a meeting in Beijing.
"We see the situation on the international stage. And we praise you for the thoughtful progress you make. You go your way, don't undermine anyone, and don't get triggered by the barbs that people all over direct at China," Lukashenko added. "This is absolutely in line with the spirit and character of the Chinese people."
Minsk and Beijing "have no forbidden directions for cooperation" and "never intended to … work against third nations, whoever they may be," Lukashenko said. He boasted that Belarusian-Chinese bilateral trade was set to reach $6 billion per year and said that the aim of his three-day visit was to "outline new horizons" in the countries' ties.
Li noted that the relationship between the two nations was built on a foundation of "mutual respect, trust, and win-win cooperation" and had the potential for further improvement.
Belarus, a traditional Russian ally, shares Moscow's concern about the expansion of NATO in Europe. Amid the security crisis in Ukraine, the two agreed to form a joint military force, a move touted as a way to counter the military buildup of the US-led bloc in Poland and the Baltic states.
China is a strategic Russian partner. While Beijing criticized Moscow for sending troops into Ukraine, it laid the blame for provoking the crisis in the first place on the US and NATO and has defied Washington's wishes by refusing to impose economic sanctions.
The US claimed in February that Beijing was considering sending military aid to Russia and threatened retaliation for such a move. China has denied the American allegations.
You can share this story on social media: