Baltic nation urges West to cross 'red lines' on Ukraine
Constraints on supplying weapons to Kiev only exist "in our minds," the Lithuanian president says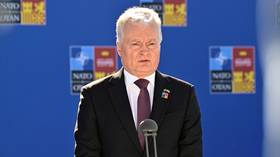 Ukraine's Western backers should abandon all limitations on military aid and quickly supply Kiev with the weapons it needs in the conflict with Moscow, Lithuania's President Gitanas Nauseda has said.
"This is very important that we cross these red lines, which are in our minds and don't really exist in reality. Maybe sometimes Russia tries to set up those red lines instead of us," Nauseda told CNN on Monday.
He said his "message" to the West was: "Not [to] waste the time. Be decisive, be united and take decisions as quick as possible" on delivering weapons to the Kiev government.
The leader of Lithuania, which is a member of both NATO and the EU, welcomed the surprise visit of US President Joe Biden to the Ukrainian capital Kiev earlier that day, saying that it sent a strong message of unity to the allies and was proof that Ukraine wouldn't be abandoned by the West.
While in Kiev, Biden promised to announce "another half a billion dollars" in military aid to Ukraine later this week. The package would include "artillery ammunition for howitzers, more javelins, anti-armor systems, air surveillance radars" and more, he said.
After securing promises to send main battle tanks from its foreign backers last month, the Ukrainian government of Vladimir Zelensky has intensified its call for warplanes as well, including US-made F-16s, and longer-range missiles.
Washington and other allies have so far been reluctant to deliver such hardware to Ukraine over concerns that it could lead to a major escalation and a direct clash between NATO and Russia.
Moscow has said that its own 'red line' would be Western supplies of longer-range and more powerful weapons to Ukraine that would enable it to carry out attacks deep inside Russian territory.
Russia has long decried deliveries of arms to Kiev by the US, EU, UK and others, arguing that they only prolong the fighting, while being unable to change its outcome. According to Moscow, such deliveries as well as intelligence sharing and training provided to Ukrainian troops have de facto already made Western nations parties to the conflict.
You can share this story on social media: