Biden makes weapons pledge in Kiev 
The US is promising another $500 million in military aid to Ukraine, including additional rockets and anti-armor weapons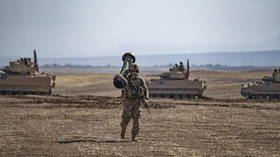 Washington is readying another major military aid package for Kiev that will include more artillery ammunition, more javelin missiles, anti-armor systems and air-surveillance radars, President Joe Biden announced during his trip to Kiev on Monday. The surprise visit cAME nearly a year after Moscow launched its military offensive in the neighboring state.
Speaking at a joint press conference with Ukrainian President Vladimir Zelensky, Biden said Washington has led a coalition that provided "unprecedented" support for Kiev.
"Together, we have committed nearly 700 tanks, thousands of armored vehicles, 1,000 artillery systems, more than two million rounds of artillery ammunition, more than 50 advanced … rocket systems," Biden said.
He added that this newest US military aid package would be worth "another half a billion dollars" and will include "artillery ammunition for howitzers, more javelins, anti-armor systems, air surveillance radars" and more.
Washington would later this week unveil new sanctions, he said, targeting "elites and companies that are trying to evade or backfill Russia's war machine."
Russia sent troops into Ukraine last February, citing the need to protect the people of Donbass and Kiev's failure to implement the 2014-2015 Minsk peace accords. Washington has since been one of Ukraine's main backers.
According to the Pentagon, the US provided more than $27.4 billion in security assistance to Kiev between February 24, 2022 and January 20, 2023.
The Kremlin has repeatedly warned that the flow of foreign arms will not change the course of the conflict and that all equipment would be treated as legitimate targets by Russian forces.
Russia has also accused Ukraine of using Western-supplied weapons to attack civilians. Around 5,000 people were killed in Donbass and nearly 9,000 wounded since 2014, Aleksandr Bastrykin, the head of Russia's Investigative Committee, said on Monday.
You can share this story on social media: