EU member disrupts traffic with key Russian ally
Lithuania has suspended border cooperation with Belarus, the government in Minsk has reported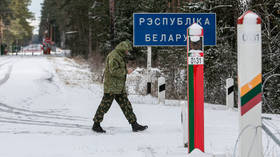 Lithuania has decided to suspend cooperation with Belarus on ensuring uninterrupted transport flow across their mutual border, Minsk announced on Thursday citing a notice it received from Vilnius.
Under a November 2019 agreement, the two nations' border and customs services pledged to improve connectivity, the State Border Control Committee of Belarus (GPK) said in a statement. It added that Lithuania's State Border Guard Service (VSAT) had not offered any rationale for the policy change in its notice.
The VSAT did not immediately confirm the news. But on Thursday it published statistics on the number of illegal immigrants it had intercepted on the border with Belarus. It put the number at 19,646 since the beginning of the Belarus-EU border crisis and 11,211 last year alone.
The border confrontation between Minsk and its neighbors, the EU nations Poland, Lithuania and Latvia, unfolded in the summer of 2021, when they reported a surge in the number of asylum seekers, most of them from the Middle East, arriving via Belarus.
The three nations accused the Belarusian government of orchestrating the crisis, which Minsk denied, and employed some heavy-handed tactics to prevent people from entering their territory.
The human rights group Amnesty International documented various forms of abuse of the refugees by Polish, Lithuanian and Latvian authorities and accused the EU leadership of turning a blind eye to the three member states violating the bloc's laws.
You can share this story on social media: