Russia didn't blow up gas pipeline – Nord Stream boss
Moscow was not behind the undersea "sabotage" in September 2022, Matthias Warnig believes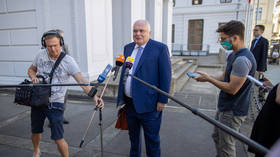 Russia is unlikely to be behind an attack last September on the Nord Stream gas pipelines, according to Matthias Warnig, the head of Nord Stream AG and Nord Stream 2 AG – two Swiss-based companies operating the undersea Russian gas pipelines. Warnig, who is said to have long-standing personal ties with Russian President Vladimir Putin, spoke to German newspaper Die Zeit recently.
"The Russians? No," he responded, when asked about Moscow's potential complicity in the incident that left both Nord Stream 1 strings and one Nord Stream 2 string severely damaged. Die Zeit published a lengthy profile interview on Wednesday, detailing Warnig's relations with Putin and his work for companies affiliated with Russia.
Warnig, who has been the managing director of the Nord Stream AG company since it was founded in 2006, provided no definitive answer to a question on who might be behind the incident. When asked whether London might have been behind it, he called it "speculation" and suggested that the journalist "think about it."
The Nord Stream 1 and Nord Stream 2 pipelines, built to deliver increased amounts of gas to EU markets, notably Germany, were damaged in a series of underwater explosions on September 26, 2022. The pipelines, except for one Nord Stream 2 string, were rendered inoperable and are in need of repairs.
The incident took place off the island of Bornholm, within the economic zones of Denmark and Sweden. Sweden, Denmark, and Germany launched a probe into the incident but refused to share the results with Russia. Specialists from the Russian energy giant Gazprom were only allowed to investigate the blast site once, in late October.
Western officials were quick to blame Russia for the incident. Moscow blasted the alleged sabotage attack as an "act of terrorism" and pointed the finger at Washington. No official probe results have been presented, and no suspects have been named so far.
You can share this story on social media: