Türkiye teases massive Ukraine-Russia prisoner swap
A thousand people could be exchanged with Ankara's mediation, the Turkish ombudsman has told journalists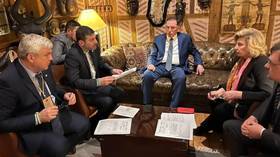 Russian and Ukrainian officials have compiled lists for a potential prisoner swap involving some 1,000 people, according to Türkiye, which hosted talks between the two nations last week.
Details of the initiative were shared by Seref Malkoc, Türkiye's chief ombudsman for human rights, during a press conference on Monday.
"The Ukrainian ombudsman gave a list of 800 people to the Russian side at the meeting where I was present. The Russian ombudsman gave a list of 200 people to the Ukrainian ombudsman," he said, as quoted by Turkish media.
Russian human-rights commissioner Tatyana Moskalkova held a bilateral discussion last week with Ukraine's Dmitry Lubinets in Ankara on the sidelines of a conference. They were later joined by Malkoc and Mustafa Sentop, the speaker of the Turkish parliament.
Possible prisoner exchanges were discussed during the meeting, but the numbers involved had not previously been disclosed.
The Turkish intermediary said the two parties amended their lists during the meeting and added that Turkish President Recep Tayyip Erdogan will be in contact with Russian and Ukrainian counterparts, respectively Vladimir Putin and Vladimir Zelensky, about the matter.
Russia and Ukraine have conducted a number of prisoner swaps throughout the armed conflict, some with Türkiye's mediation. Unlike many allies of the US, Ankara declined to take an antagonistic stance towards Russia and has served as a middle man between Moscow and Kiev. Among other things, Türkiye helped create a UN-backed mechanism for exporting grain via the Black Sea.
Moskalkova commented on the remarks on Tuesday, saying they did not indicate that a prisoner swap was imminent or would involve all of the listed individuals.
"I always stress that those issues are the prerogative of the Defense Ministry or Russia," she noted. An exchange of 800 prisoners in Russian custody for 200 people held by Ukraine would not be "equitable" and could be perceived as unjust, she added.
You can share this story on social media: