Ukrainian and Russian officials meet in Ankara
During the talks, the Russian delegation also asked Türkiye to halt weapons supplies to Kiev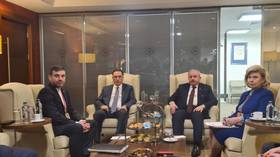 Officials from Russia, Ukraine and Türkiye met in Ankara on Wednesday, where they held several rounds of talks. The delegations discussed opening a humanitarian corridor between Moscow and Kiev, swapping prisoners, and establishing a ceasefire amid the ongoing military conflict in Ukraine.
The meeting took place on the sidelines of the 'Future of Human Rights in the 21st Century' conference, at which Russian human-rights commissioner Tatyana Moskalkova held a face-to-face discussion with her Ukrainian counterpart Dmitry Lubinets, before being joined by their Turkish counterpart Sheref Malkoch and Speaker of the Turkish Parliament Mustafa Sentop.
The officials also discussed a "wide range of humanitarian problems and issues related to the provision of human rights assistance" to the citizens of the two embattled countries, Lubinets wrote on Facebook following the meeting.
Moskalkova, meanwhile, wrote on her Telegram channel that Russia and Ukraine have agreed to continue providing mutual assistance to citizens of both countries and will continue to cooperate in exchanging prisoners of war. She added that the sides will also work to find missing persons, noting that 22 people have already been found thanks to this cooperation and some have already been returned home.
The Russian ombudswoman also noted that the trilateral discussion touched upon the importance of establishing a ceasefire, which she called a "necessary condition for the prevention of human rights violations." To that end, Moskalkova personally asked Speaker Sentop to stop Türkiye's ongoing supply of weapons to Ukraine, which, she said, only served to further escalate the situation in the country.
Following the talks, Moskalkova told TASS news agency that she intends to meet with her Ukrainian counterpart again on the sidelines of the conference, which continues on Thursday. She noted that Russia and Ukraine continue to cooperate on human-rights issues, and stressed the importance of upholding such contacts.
You can share this story on social media: