Wagner comments on Ukrainian casualties in Soledar
The private military company founder says the Donbass town is fully under Russian control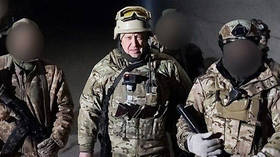 Ukrainian soldiers surrounded in Soledar have either surrendered or been killed, Wagner Group founder Evgeny Prigozhin claimed on Wednesday. Fighters with the private military company completely surrounded the Donbass town the day before and are now clearing the extensive tunnel network in the town's salt mines, he added.
"I want to repeat that Soledar has been fully liberated and cleared of Ukrainian army units," Prigozhin said in a statement on Wednesday evening. "The Ukrainian troops that refused to surrender have been destroyed."
Prigozhin estimated that around 500 Ukrainian troops have been killed after Wagner forces closed the encirclement of Soledar.
"The entire town is littered with the bodies of Ukrainian servicemen," he said.
Wagner fighters first circulated a video taken in downtown Soledar on Tuesday, as proof the town administration was under their control. Later in the day, Prigozhin was filmed touring the salt mine tunnels, which he said Wagner was starting to clear. The tunnel network is approximately 300 kilometers (186 miles) long and reaches hundreds of meters below the ground level.
Prigozhin also quashed rumors, circulating due to a meeting of Russian and Ukrainian officials in Türkiye on Wednesday, that some kind of evacuation was being arranged.
"There can be no word of any humanitarian corridor," he said, noting that all civilians have already been evacuated from the town.
Soledar had around 10,000 residents before the conflict. The Ukrainian army turned it into a strongpoint after being pushed out of Popasnaya in mid-2022. Russian control of the town now threatens to unravel the entire Ukrainian front in Donbass.
Ukrainian President Vladimir Zelensky acknowledged on Sunday that the situation in Soledar was "very difficult" but vowed that Ukrainian troops would continue to hold "no matter what."
Russia sent troops into Ukraine on February 24, citing Kiev's failure to implement the Minsk agreements, designed to give the regions of Donetsk and Lugansk special status within the Ukrainian state. The protocols, brokered by Germany and France, were first signed in 2014. Former Ukrainian President Pyotr Poroshenko has since admitted that Kiev's main goal was to use the ceasefire to buy time and "create powerful armed forces."
Moscow demands that Ukraine officially declare itself a neutral country that will never join any Western military bloc. Kiev insists the Russian offensive was completely unprovoked.
You can share this story on social media: