Wagner group releases video from contested Soledar
Recording shows the center of key Donbass town under Russian control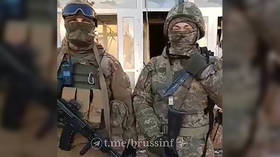 Russian troops are in control of downtown Soledar, the private military company Wagner has claimed, posting a video filmed outside the town's administration building on Tuesday afternoon. The salt-mining town is a crucial link in Ukraine's Donbass fortifications and commands the northern approach to the strategic hub of Bakhmut.
The video making rounds on social media shows two members of the PMC, which has been storming the town block-by-block over the past several weeks, outside the battle-scarred building.
"We are at the center of town right now, outside the administration building," the soldiers say. "PMC Wagner is carrying out the mission, clearing the town."
According to some frontline reports, Russian forces north and south of Soledar have linked up outside a salt mine west of the town, cutting off any Ukrainian soldiers that did not manage to retreat.
Named after its salt mines, Soledar had around 10,000 residents before the conflict. The Ukrainian army turned it into a strongpoint after being pushed out of Popasnaya in mid-2022.
Russian control of the town creates a problem for Ukrainian forces both to the north and to the south, in the embattled bastion of Artyomovsk, which Kiev has renamed Bakhmut.
Ukrainian President Vladimir Zelensky acknowledged on Sunday that the situation in Soledar was "very difficult" and called it "one of the bloodiest spots along the front line," but vowed that Ukrainian troops would continue to hold "no matter what."
While capturing Artyomovsk would open the road to Slavyansk, where the Donetsk People's Republic (DPR) was proclaimed in 2014, Kiev's determination to hold the town has presented the Russian forces with the opportunity to catch Ukrainian forces in a "meat grinder," according to Russian war correspondents.
As Wagner founder Evgeny Prigozhin told local media last week, the objective is not the city itself, but "the destruction of the Ukrainian army and the reduction of its combat potential."
Russia sent troops into Ukraine on February 24, citing Kiev's failure to implement the Minsk agreements, designed to give the regions of Donetsk and Lugansk special status within the Ukrainian state. The protocols, brokered by Germany and France, were first signed in 2014. Former Ukrainian president Pyotr Poroshenko has since admitted that Kiev's main goal was to use the ceasefire to buy time and "create powerful armed forces."
Moscow demands that Ukraine officially declare itself a neutral country that will never join any Western military bloc. Kiev insists the Russian offensive was completely unprovoked.
You can share this story on social media: