Key Donbass town close to liberation – DPR head
Fighting is now taking place in the Western part of Soledar, Denis Pushilin says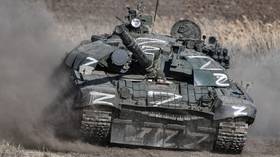 Russian forces are about to seize the key town of Soledar from the Ukrainian military, the acting head of Russia's People's Republic of Donetsk Denis Pushilin has said.
"The events [in Soledar] are developing in the exact way that the town is close to liberation," Pushilin told Channel 1 on Tuesday.
The fighting between Russian and Ukrainian troops is now taking place in the Western part of the settlement, he added.
Soledar, which had a population of some 10,000 before the conflict, is located ten kilometers north of Bakhmut/Artyomovsk, and control over it is believed to be crucial for the Russian operation to encircle the major Ukrainian stronghold.
Pushilin's claims were backed by the UK Defense Ministry, which said in an intelligence report on Tuesday that "in the last four days, Russia and [Russian private military company] Wagner forces have made tactical advances into the small Donbass town of Soledar and are likely in control of most of the settlement."
However, the British ministry suggested that this "increased pressure" still won't allow the Russians to envelop Bakhmut/Artyomovsk as "Ukrainian forces maintain strong defensive lines in depth and control over supply routes."
On Monday, the Pentagon's Deputy Press Secretary Sabrina Singh also said that, according to US data, there is "a good portion of Soledar that the Russians have in their hands." Singh described as "savage" the artillery exchanges between the sides in the battle for the key town.
Ukrainian President Vladimir Zelensky acknowledged in an address on Sunday that the situation in Soledar was "very difficult" for the country's military.
The area around Bakhmut/Artyomovsk, which includes Soledar, was "one of the bloodiest spots along the front line," he said, promising that Ukrainian troops will continue resisting the Russian offensive "no matter what."
You can share this story on social media: