World's largest vaccine maker, India's Serum Institute, to begin local production based on Russia's flagship Sputnik V Covid jab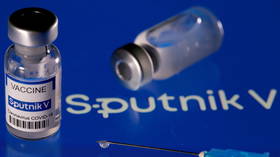 India's Serum Institute (SII) is set to start producing a local version of Russia's pioneering Sputnik V Covid-19 vaccine. The firm hopes to make over 300 million doses of the drug each year, with operations starting in September.
Moscow's sovereign wealth fund, the Russian Direct Investment Fund (RDIF), which finances the vaccine, announced the production partnership with the SII on Tuesday. The product will be known simply as "Sputnik" in India, without the original "V" suffix.
The technology transfer process in order for India to begin producing doses of the formula to fight Covid-19 has already begun. Russia's Gamaleya Institute has provided the SII with cell and vector samples, and the cultivation process is underway after getting the green light from India's drug regulator.
The first batch of vaccines is expected by September. Once the manufacturing process is streamlined, the SII hopes to produce over 300 million doses of Sputnik each year.
RDIF CEO Kirill Dmitriev hailed the production agreement, describing it as a "strategic partnership" that serves as an example of "joining forces and expertise to save lives both in India and around the world."
Also on rt.com
Russia's flagship Sputnik V Covid-19 vaccine is effective against all known new variants of the killer virus, developer claims
Pointing to Sputnik's high efficacy and safety profile, Adar Poonawalla, head of the SII, said that it was "critical" that Sputnik be accessible to people across India and the world.
"Given the uncertainty of the virus, it is important for international institutes and governments to collaborate and further bolster up our fight against the pandemic," he noted.
The Indian vaccine maker has already produced 500 million doses of Covid vaccine. In addition to developing its own vaccine, the institute currently produces Covishield, based on the AstraZeneca-Oxford drug, and Covovax, created by US biotech company Novavax.
Sputnik V has received emergency use authorization in nearly 70 countries around the world. However, it is still awaiting approval from the World Health Organization, as well as EU regulators, despite mounting evidence of its safety and efficacy. Studies in several prestigious medical journals, including data analysis recently published last week by Nature, have pointed to strong evidence that the drug is safe and effective.
Like this story? Share it with a friend!
You can share this story on social media: