Russia's flagship Sputnik V Covid-19 vaccine is effective against all known new variants of the killer virus, developer claims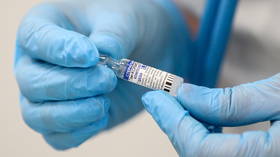 Russia's pioneering Sputnik V vaccine has been proven to be effective against known new strains of Covid-19, according to fresh research. Even among the more vaccine-resistant variants, the jab fared better than alternative shots.
Developed by Moscow's Gamaleya Institute, Sputnik V was the world's first registered vaccine against the killer virus, and since it was announced, last August, it has been approved in 67 countries worldwide.
The shot has been subjected to intense scrutiny, but has delivered promising results, thus far. The latest findings, published in the 'Vaccines' scientific journal on Monday, show that the jab produces "strong results" in neutralizing multiple variants of the coronavirus, including the highly transmissible Delta variant.
BREAKING: #SputnikV is highly protective against new variants of COVID-19, research by Gamaleya Center published in Vaccines, a leading international journal, demonstrates. Sputnik V produces virus neutralizing titers vs newly detected strains. 👇https://t.co/kqNmPxbHy1

— Sputnik V (@sputnikvaccine) July 12, 2021
Drawing on data from Mexico, Argentina, Serbia, Bahrain, Hungary, and other countries, the Gamaleya researchers found that Sputnik V has a neutralizing effect on the Alpha (first identified in the UK), Beta (first identified in South Africa), Gamma (first identified in Brazil), Delta (first identified in India), and Moscow's own endemic variants of the coronavirus.
Sputnik's efficacy against the Beta and Delta variants was lower than against other strains, but still higher than that offered by other vaccines, the research paper said. However, the paper pointed out that a "direct comparison" would be necessary to conclusively prove this discrepancy, and mentioned that the "virus neutralizing activity" recorded does not directly translate into effectiveness against infection, hospitalization, or death.
Unlike the vaccines manufactured by Pfizer and Moderna, which introduce a strand of mRNA into a person's body to instruct the cells to produce antibodies, Sputnik V uses a human adenovirus – an inactive form of the coronavirus. This method of vaccination has been extensively tested over more than half a century, and more than 250 clinical trials have been conducted on these kinds of vaccines in the last two decades, the Gamaleya Institute noted.
AstraZeneca uses a chimpanzee-derived adenovirus adenovirus in its shot, while Johnson & Johnson also uses a human adenovirus. However, Sputnik uses two different human adenoviruses, with this 'vaccine cocktail' approach pioneered by the Gamaleya scientists.
Also on rt.com
Real-world evidence clearly shows Russia's Sputnik V Covid-19 jab both 'safe & effective,' British science journal Nature reports
Sputnik V has not yet been approved by the World Health Organization or EU regulators, despite mounting evidence for its safety and efficacy. The Lancet, a prestigious British medical journal, found in February that the Russian-made shot was safe and effective, while real-world data compiled last week by 'Nature', another academic journal, "suggests that it is safe and effective."
Like this story? Share it with a friend!
You can share this story on social media: