Court puts Russian journalist charged with drug dealing under house arrest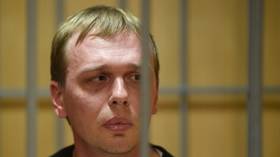 A Moscow court has placed Ivan Golunov under two-month house arrest, siding with his defense. The investigative journalist stands accused of possessing illegal drugs with intent to supply. He denies all the allegations.
Golunov, who works for Latvia-based Russian news outlet Meduza and specializes in anti-corruption investigations, was detained in Moscow on Thursday. Investigators say the journalist had several packages of illegal drugs on him and at his apartment, as well as electronic scales. Golunov and his supporters, however, maintain that the drugs were planted by law enforcement to frame him.
The prosecution on Saturday asked the court to arrest him for two months. The defense, meanwhile, argued that he should instead be placed under house arrest. In the end, the court decided to put Golunov under house arrest for two months.
The journalist denied all charges, saying that he "has nothing to do with drugs, and never took drugs himself." He also promised to cooperate with the investigation.
"I never thought I'd be present at my own funeral," the journalist said ahead of the hearing, adding that the process felt "like the movies" to him.
The case, which also involved allegations of police beatings and an inconclusive tour to a hospital – where doctors confirmed only minor injuries – has attracted quite a bit of controversy in Russia and abroad. A crowd of supporters gathered outside the court building on Saturday as the courtroom had been filled to the limits. The police had to hold the doors and push some of the people away. Dozens remained in the street and celebrated when the decision was announced.
Many were quick to link Golunov's case to his anti-corruption journalism, and at the hearing the man himself pointed a finger at one potentially interested organization. He said he was detained the same day he submitted a draft of his new piece on the funeral industry in Russia – a lucrative business, largely monopolized by GBU Ritual, which the authorities have previously promised to reform. According to Meduza, Golunov's new article alleges that some high-profile people within the country's law enforcement are reaping profits from the business.
Also on rt.com
Russian journalist taken to hospital after being charged with drug dealing
Meanwhile, the investigators continue to probe Golunov's alleged links to a busted drug lab. Shortly after the detention, the Interior Ministry's website published several photos featuring forbidden substances. But all except one of those were soon deleted, and the police rolled out an explanation saying that only that one photo was actually taken at the journalist's home, and the rest were from the ongoing probe into the drug dealers.
Think your friends would be interested? Share this story!
You can share this story on social media: