Ekaterinburg protests: Church construction halted as Putin calls for opinion poll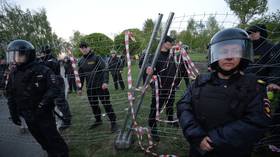 Russia's President Vladimir Putin has ordered an opinion poll on the church construction at a park in the city of Ekaterinburg, after the issue sparked mass protests against the project. The construction has already been halted.
The protests against the plans to construct a church at the city's center have been going on for three days already. The rallies were marked with sporadic scuffles between demonstrators and police, as well as dozens detained over participation in an unauthorized gathering and petty hooliganism.
Also on rt.com
Park defenders v church rebuilders: 3 injured, 23 arrested as protest turns violent (PHOTO, VIDEO)
On Thursday, the Russian president weighed in on the issue, stating that the opinion of the local residents – not some "professional activists" from elsewhere – should be definitely noted.
"There's a simple solution – hold an opinion poll and the minority should follow the majority. That's how democracy works. Yet, of course, the minority opinion must be noted as well," Putin told reporters when asked about the whole affair.
The protesters have gathered at the park of discord in Ekaterinburg for the fourth consecutive evening. This time the mayor of the city – Aleksandr Vysokinskiy – met them in person.
While some of them urged the official to resign altogether and were unwilling to engage in any dialogue, the meeting turned out to be quite fruitful. The mayor told the protesters that an opinion poll will be held and until its results are known the construction works will not proceed. Vysokinskiy has also urged the demonstrators to elect a group of representatives to meet the city's authorities and discuss the issue further.
Also on rt.com
Firecrackers, scuffles & arrests: Church construction protesters face off with riot police (VIDEOS)
The protests were sparked by plans to rebuild the historic church of St. Catherine, demolished back in the 1930s. While the project was greenlighted by the city's authorities, its opponents argued that there are already enough churches in the city's center – and too few green spaces left untouched. The church was expected to be built by 2023, when the city marks the 300th anniversary of its founding.
Like this story? Share it with a friend!