Firecrackers, scuffles & arrests: Church construction protesters face off with riot police (VIDEOS)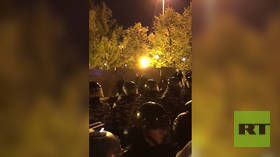 Dozens of arrests and occasional scuffles with riot police marked the third day of protests against the erection of a new church in Russia's Ekaterinburg, as the city apparently persists with a park construction plan.
Tensions in the major Urals city, caused by a project to rebuild a historic church in a central park, continued for the third consecutive night, with dozens of armored riot police deployed to protect the fence around the site from being dismantled by protesters. Unable to physically remove the contentious fence like they did the day before, the opponents of the church construction chanted various slogans, including political ones.
At first, the standoff was peaceful. The massive police presence did not move to disperse the protest at first, instead trying to persuade people to leave on their own, addressing them through loudspeakers. An RT Russian correspondent at the scene dismissed reports of tear gas being deployed, saying that police instead pushed people away from the fence.
Also on rt.com
Park defenders v church rebuilders: 3 injured, 23 arrested as protest turns violent (PHOTO, VIDEO)
However, as time moved past midnight, reports of scuffles and several dozen arrests came in. At one point it was claimed that stones and bottles flew towards riot police, while protesters complained about forceful detentions online.
Some people were spotted setting off firecrackers in the crowd or trying to hurl them at the police.
The crowd was eventually forced to retreat by the approaching police officers, with many shouting "shame."
Силовики начали оттеснять строем. На них налетела толпа людей. Наш журналист сообщает, что каждые минут 15 отводят человека по четыре из оцепления, сажают в автозак, говорят с ними, потом уже пересаживают в машину и увозят. pic.twitter.com/86pAzowPNq

— URA.RU (@ura_ru) 15 мая 2019 г.
Some 33 protesters were detained for disrupting public order at an unauthorized rally, according to authorities, while activists claim at least 58 people were apprehended by the police.
READ MORE: about standoff between park defenders & church rebuilders in Ekaterinburg

Protesters object to the construction of St. Catherine's Cathedral in one of the central parks, arguing that it will destroy one of the city's few remaining green spaces. The replica of the original shrine, which was demolished in 1930 by the communist government, is due to be completed in 2023, in time for the 300th anniversary of the founding of Ekaterinburg.
Like this story? Share it with a friend!
You can share this story on social media: