Crown didn't help: Court fines 'superstar' hairstylist over 1-man Red Square protest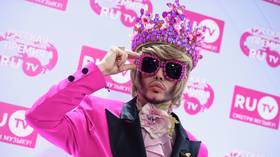 Flamboyant celebrity hairstylist, singer and socialite, Sergey Zverev, arrived in a Moscow court wearing a massive crown, but it didn't impress the judges who ruled that his one-man protest on Red Square was illegal.
When asked about his occupation in court, Zverev replied that it was "superstar." He also insisted that not many people are allowed to wear a crown like he does.
The winner of world and European hairdressing championships vowed to appeal against a fine of 15,000 rubles (around $230) that was imposed on him.
"It's an unfair decision and the people have the same opinion. We're going to fight against it," he told RT.
Zverev was summoned to court over a one-man protest he staged at Red Square in the heart of Moscow in early March.
He was demanding a halt to the construction of a Chinese water-bottling plant on the shores of Lake Baikal in southern Siberia. He believes the enterprise endangers the ecology of the iconic Russian lake, which holds 23 percent of the world's fresh surface water. Baikal also hosts numerous unique species of wildlife, while its water is renowned for its cleanliness.
"I am from Baikal myself, so I couldn't ignore this issue. There's nothing special about it [the protest]. It's not some kind of a heroic feat. As we found out, the construction of the plant was illegal. The people were speaking about this for two years, but nobody listened. That's why I staged my protest," Zverev, who was born in the village of Kulyuk on Baikal's shores, explained.
Also on rt.com
Russian PM to look into plans for construction of Chinese water-bottling factory at Lake Baikal
The construction of the plant also caused other, much larger, protests, while a petition against it gathered over a million signatures. The public outcry also attracted the attention of the environmental prosecutor's office. In April, a court in Irkutsk eventually decided to forbid the Chinese company from building its plant.
Think your friends would be interested? Share this story!
You can share this story on social media: