Imperial charity: New exhibition tells story of Russian royal family's philanthropic endeavors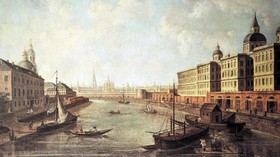 A unique collection of paintings, sculptures and other artefacts showing the scale of charitable endeavors of the Romanov dynasty over 300 years has been brought together by a Moscow museum.
The Grand Palace of Moscow's Tsaritsyno park is to host more than 1,000 items from different museums across Russia, as well as private collections in an exhibition prepared for the 100th anniversary of execution of the last reigning emperor, Nicholas II, along with his family by the Bolsheviks.
Also on rt.com
OST #Romanovs100: The life and death of the Romanov family in music by Peter Nalitch
The Romanovs themselves founded several notable charity organizations, such as the Russian Red Cross and the Imperial Philanthropic Society, the largest charity in the Russian Empire. Empress Catherine the Great made all charities state institutions in the 18th century. Under the law, they were granted government funding, aside from receiving private donations.
Nicholas II personally donated sizable funds to charity, and during WWI he turned the royal residences into hospitals for sick and wounded soldiers.
Like this story? Share it with a friend!